3 Doors Down scores with new CD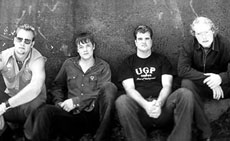 Photo courtesy of 3doorsdown.com
The much anticipated sophomore release by the alternative rock group, 3 Doors Down was released on November 12.
Thus far, "Away From the Sun" looks as if it will be able to avoid the "sophomore jinx" with the release of the first single, "When I'm Gone."
The band, originally from Escatawpa, Miss. released their debut album, "The Better Life" in February 2000. "The Better Life" was the album that produced such hits as "Kryptonite," "Loser," "Duck and Run" and "Be Like That." The debut album has since been certified 5 times platinum.
Band members include Brad Arnold (vocals), Todd Harrell (bass), Matt Roberts (guitar) and Chris Henderson (guitar).
"Away from the Sun" was produced over the past year by legendary producer Rick Parashar who has also produced albums for such bands as Pearl Jam, Alice In Chains and Nickelback. 3 Doors Down has also toured in the past with Creed, Sevendust, Tantric and Lifehouse.
The band is set to begin touring once again, however, there has yet to be a date set in Cincinnati.
The CD returns to a style that was evident in the first album, but also gives a slightly different sound in several of the tracks.
"Away From the Sun" has an upbeat tempo that is sure to put the listener into a good mood. There is nothing worse than listening to your favorite CD on a bad day and it makes your day worse. This album, no matter what mood you may be in, is going to make the day a little brighter.
From the upbeat tracks of "When I'm Gone" and "Dangerous Game" to the slower tracks of "Here Without You" and "Away From the Sun" the lyrics are written in a positive way. Each song has lyrics that talk about the experiences that a person can go through in their lifetime.
"Away From the Sun" also comes with a special edition DVD. The DVD contains four music videos from the debut album, a live version of "Kryptonite," a story of how the new album was produced and Dolby Digital versions of "When I'm Gone" and "Dangerous Game."
Overall, the CD contains high quality musical content. In addition to the lyrics, the guitar riffs coincide with the beat of the rest of the music naturally.
I felt that "Away From the Sun" has the potential to become as successful, if not more, than the first CD. There are many similarities in the albums with the new CD showing some progression that the band has made since the release of "The Better Life" two years ago.