Eminem lays it down in 8 Mile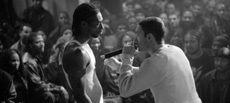 Photo contributed
"8 Mile", Eminem's motion picture debut, took in $54.5 million in the first weekend. Directed by Curtis Hanson, who also directed the superb film L.A. Confidential,
"8 Mile" tells the story of Jimmy Smith Jr., better known as Rabbit.
In this semi-autobiographical tale of Eminem's beginnings, Rabbit dreams of leaving the slums of Detroit through his rap skills.
However, Rabbit runs into problems: being a white rapper in a predominantly black industry, evoking the hatred of a rival rap group, and more.
Through out the movie, Rabbit realizes that to succeed you must put faith in yourself and just go after it, not relying on anyone else.
While a fan of Eminem's music, especially "Lose Yourself" from the "8 Mile" soundtrack, I wasn't expecting too much from his big screen debut.
All one has to do is look at all the other musicians turned actors and realize that sometimes the transition is not so smooth. For example the movie 'How High,' staring Methodman and Redman.
However, in this case, Eminem exceeds expectations and proves to be a better actor than most others.
While predominantly a drama, "8 Mile" also has some very comedic moments, like a certain scene involving a paintball gun.
Also, the MC battles contain some hilarious rhymes that lighten up an otherwise dreary, yet excellent, film.
"8 Mile" features a talented cast, including Kim Basinger and Mekhi Phifer.
As Stephanie, Rabbit's mom, Basinger portrays a lazy, selfish woman who refuses to get a job and take care of her family.
Mekhi Phifer is entertaining as Future, Rabbit's best friend and host of the MC battles.
The movie also features Brittany Murphy as Alex, Rabbit's love interest, although the rather limited character keeps her from shining like she has done in past movies, like "Don't Say A Word."
In addition to an excellent cast, "8 Mile" features a superb soundtrack that truly fits the movie.
Currently number one on the Billboard charts, the soundtrack features songs by Eminem, Jay-Z, 50 Cent, and more.
While all the songs are excellent and complement the movie's atmosphere, "Lose Yourself" by Eminem is easily the best song on the soundtrack.
Would I recommend "8 Mile"? Definitely.
Overall, I would give the movie 4 out of 5 stars. While the movie is entertaining, it still lacks that certain something to get a perfect score.
Still, it's worth the time and money so head to your local theater and check out Eminem's big-screen debut "8 Mile".