Women's soccer team clinches 2002 GLVC championship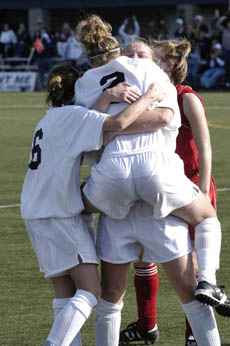 Tim Downer /Athletic Dept.
Stephanie Sandfoss celebrates with teammates Michelle Kelly and Hope Bushelman after scoring the game winning goal against the University of Missouri- St. Louis, Sunday afternoon. The top-ranked Lady Norse won the game 1-0 to win its fifth consecutive Great Lakes Valley Conference Tournament championship. The Norse head into the NCAA Division II Tournament as the No. 1 seed.