Top-ranked Lady Norse win fifth straight GLVC championship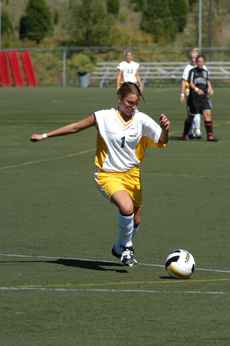 Tim Downer/Athletic Dept. Photographer
WILDER, Ky. – For the first 88 minutes Sunday afternoon, the University of Missouri-St. Louis defense held unbeaten Northern Kentucky University scoreless, and it appeared the championship match of the Great Lakes Valley Conference Tournament was headed for overtime.
Instead, a perfectly placed corner kick by the Norse's Carey Hebbeler, an outstanding pass by Michelle Kelly and a dramatic finish by Stephanie Sandfoss produced a 1-0 victory for NKU at the Town ' Country Sports Complex.
With less than two minutes remaining in regulation, Hebbeler took the corner kick from the right side of the field. The kick was redirected by Kelly, who headed the ball to Sandfoss in front of the goal.
Sandfoss took the pass and headed the ball past Missouri-St. Louis goalie Rebecca Senn into the net with just 1:43 remaining in the match. It was the 15th goal of the season for Sandfoss, a graduate of Highlands High School who leads the GLVC in that category.
NKU – ranked No. 1 nationally in the NCAA Division II poll – improved to 19-0-2 with the victory. The Norse also captured their fifth consecutive GLVC championship and assured themselves of the No. 1 seed in the NCAA Division II Great Lakes Region Tournament next Saturday.
Megan Zalla recorded the shutout and had three saves for NKU, which has never lost (13-0 all-time) in the GLVC Tournament. The Norse held a 15-3 advantage in shot attempts over second-seeded Missouri-St. Louis (13-7-1) but were unable to find the net until Sandfoss' shot late in the contest.
NKU – which finished with an 11-0 advantage in corner kicks Sunday – has 13 shutouts this season, and the Norse have held their last five opponents without a goal.
NKU is now 40-0-4 in its last 44 matches against GLVC teams. The Norse have not lost to a GLVC opponent since Oct. 9, 1999, when Southern Illinois University at Edwardsville posted a 3-1 win over NKU.