Norse tough test for No. 20 Cincinnati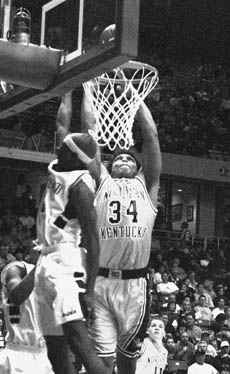 Tim Downer/ Athletic Dept. Photographer
CINCINNATI, Ohio – Senior forward Leonard Stokes scored 19 points Saturday night as the University of Cincinnati defeated Northern Kentucky University, 71-51, in a men's basketball exhibition game in the Shoemaker Center.
Field Williams added 12 points – all on three-point shots – as the 20th-ranked Bearcats pulled away from the Norse in front of a crowd of 10,820. Jason Maxiell added 11 points and nine rebounds for UC, which held NKU to 30.9 percent shooting from the field.
UC jumped out to an early 18-7 lead as Williams drained a pair of three-point shots, and the Bearcats eventually stretched their advantage to 30-16. The Norse rallied behind the shooting of sophomore guard Mike Kelsey, who connected on a trio of three-point shots in the first half and helped NKU cut the deficit to 34-22 at halftime.
UC used a 7-1 run to open the second half for a 41-23 lead, but a pair of baskets by senior forward Quentin Smith pulled NKU to within 41-27. Smith, in his first season with the Norse after transferring from Morehead State University, finished with 10 points, seven rebounds and two blocked shots.
UC built a 53-31 lead on a jumper by Stokes with 8:11 remaining, but an 8-4 NKU run sliced the Bearcats advantage to 57-39. UC extended the margin to 22 points (63-41) once again on a jumper by Chadd Moore with 4:13 remaining, and the Bearcats improved to 2-0 all-time in exhibition games against NKU.
UC shot 40 percent from the field and won the rebounding battle by a 43-38 margin. The Bearcats also forced 22 NKU turnovers.
Kelsey led NKU with 19 points, including 5 of 8 from three-point range. Chris Seabrooks and Jesse Rupe both added nine points for the Norse, and Rupe pulled down a team-leading eight rebounds.
Brenden Stowers dished out a game-high five assists for NKU, which dropped an 81-53 decision to UC last year in an exhibition game. Kelsey added four steals for the Norse, who will open the regular season Nov. 22 against the University of Findlay in the first round of the John L. Griffin/Lions Club Classic in Regents Hall.