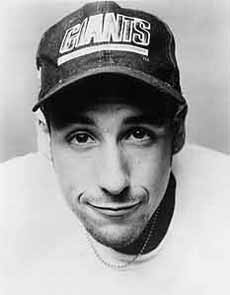 Adam Sandler has always been known for his moronic humor and wavery voice.
For those of us who have seen and loved him in movies such as Billy Madison, The Waterboy, Happy Gilmore and The Wedding Singer, you will be seeing a different side of him in Punch-Drunk Love.
The movie could be considered somewhat of a coming-of-age movie for Sandler who is now beginning to get a little older and may be trying to gradually move into a more mature role as an actor.
This transformation began with Big Daddy and Mr. Deeds and has now possibly come full circle Punch-Drunk Love.
To date, this does not appear to be Sandler's best performance. The movie has been receiving mixed reviews thus far from film critics.
Roger Ebert gives the movie 3 ? stars and Peter Rainer of the New York Metro says that the movie, "unsatisfying as it often is, it's still the kind of oddity that could only come from a real talent."
Personally, the film was not anything of what I expected it to be. It is lacking some of the child-like humor that we have come to expect from an actor such as Sandler and has tried to move him into more of a mature role.
Barry Egan (Sandler) is an executive of a toilet plunger company in Los Angeles. He has seven sisters who are always trying to butt into his life and are constantly making fun of him. Barry tries to be sociable at a family gathering but after enough tension builds up, he explodes and begins kicking out the glass patio doors.
Barry is at home one evening and decides to try out a phone-sex line. Georgia (Ashley Clark) answers the phone and talks to Barry. The next morning, before he goes to work, Georgia calls Barry back and asks if he would be able to help her pay her rent.
Barry of course declines and cancels his credit cards once he arrives at work. Georgia calls back and warns him that he should not have canceled them. The phone-sex company then sends four thugs to try and extract money form Barry and intimidate him.
Meanwhile, Barry's sister, Elizabeth (Mary Lynn Rajskub), is trying to fix him up with one of her coworkers. Lena Leonard (Emily Watson) and Barry begin to have mutual feelings for each other and when she goes to Hawaii for business, Barry surprises her by showing up in Hawaii.
One of the ongoing aspects that are going on throughout the movie is the loophole that Barry finds in a Healthy Choice promotion involving "Sky Miles." Healthy Choice began a promotion that would earn someone 500 "Sky Miles" by collecting a certain number of proofs of purchase. Barry found that there are four proofs on each four pack of pudding. He buys stacks of pudding and when he tries to cash it in for his trip to Hawaii the operator tells him that it takes six to eight weeks to process. Barry is then forced to pay out of pocket for his trip.
Punch-Drunk Love is a movie with too many aspects going on at once.
It at times was hard to follow and made me think, "What exactly is going on here?" Overall would I recommend the movie? Probably not, because I was disappointed that I was not able to see Adam Sandler in his more familiar role. From an actor standpoint, Sandler does an exceptional job filling the role of Barry. This is certainly a feather in the cap to his acting abilities. Whether this is the beginning of a new era in the life of Adam Sandler, we are yet to see, but for now we still have Happy Gilmore and Billy Madison.