New logo for a changing university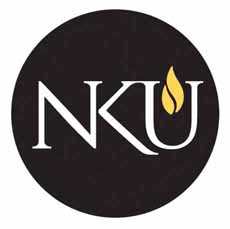 A new addition to Northern Kentucky University has been formed, although it is not another campus building, an academic course, or sports team. The current NKU logo has been modified and will soon be introduced to the university.
The fresh logo, selected from over forty designs, was clearly depicted as the favored choice from all student, faculty, and administration votes.
Approved by the Board of Regents in September, the logo is a step forward in promotion for the university and the creation of an official, standard emblem for NKU.
Vice President of University Advancement, Deborah Read, organized much of the planning and design of the revised logo.
"We didn't create a new logo, this is a variation of the university's seal, which was previously used as the logo," Read said.
"We believe NKU is progressing and wanted the logo to represent this university's momentum."
The flame from the lamp of learning, a part of the university seal, will be incorporated in the new logo. The flame will be gold and placed above the U in the initials NKU.
The current seal, a lamp of learning encircled by the name of the school and 1968, the year NKU opened, will not be replaced by the new logo.
The redesigned emblem, which will be added to the athletic teams' symbol of a dragon rising from water and to all NKU marketing and publicity, will continue to use black, gold, and white when in full color.
Planning the updated logo involved the efforts of the NKU Alumni Council, NKU Foundation Board, graphic designers from university printing and the marketing and communications staff, the President's Executive Team, the Board of Regents, Staff Congress and over 100 students.
The logo is another forward step in the future of NKU, and is set to debut in the next several weeks.