Volleyball team seeks sixth consecutive GLVC title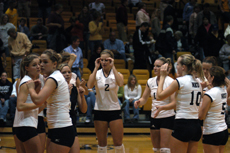 Tim Downer
Kristin Koralewski lead all scorers in a route of Quincy University, 30-24, 30-18, 30-24, in Regents Hall Friday night as the Northern Kentucky University volleyball team extended their winning streak to nine games and improved to 16-7 overall.
The Norse are 9-2 in the Great Lakes Valley Conference and in sole possession of first place in the league standings.
"We've worked really hard to get to this point," said junior setter Sara Taylor. "We started out rough in the beginning, and we've gotten to the point where we've worked as a team."
Koralewski finished with 12 kills, nine digs, two service aces and a .500 hitting percentage.
Cammi Welter finished with 11 kills, while converting 11 of 14 attack attempts with no errors for a .786 hitting percentage as the Norse powered their way through Quincy with overhead smashes that were not returnable. The Norse dominated Quincy (10-10,4-5GLVC) at the net.
Maggie Pugh added nine kills, four blocks and a .563 hitting percentage for the Norse.
Sara Taylor, who ranks No. 2 nationally in Division II in assists with 13.84 apg, added 41 assists Friday. Taylor also had seven digs and a service ace for the Norse, who own a 16-1 lead in the all-time series with Quincy.
NKU is undertaking its sixth consecutive GLVC championship. If NKU earns the No. 1 seed in the GLVC Tournament, the Norse will play host to that match Nov. 14-16 in Regents Hall.
NKU traveled to Frankfort, on Saturday to play non-conference matches against the University of Charleston (W. Va.) and Kentucky State University. The Norse came away with victories over both, 3-0.
Freshman middle hitter Kaliana Kalache recorded 10 kills and five service aces to lead the Norse over Kentucky State.
Lynne Fischesser also added 10 kills in the victory.
Taylor, who is ranked No. 2 nationally in NCAA Division II in assists, had 40 assists in the win over Kentucky State and 46 assists in the win over Charleston.
Koralewski recorded 12 kills and ll digs against Charleston, improving NKU's record to 18-7 overall and 9-2 in the GLVC.
The victories Saturday extended the Norse's win streak to 11 matches.
The Norse head to Kentucky Wesleyan College Friday for an evening match, and then to the University of Southern Indiana Saturday for an afternoon match.
Michael Fesman contributed to this article.