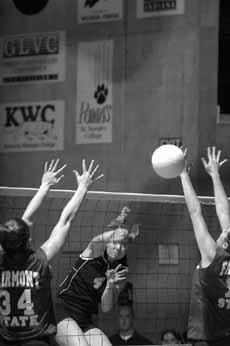 Tim Downer
When Kristen Koralewski played women's volleyball at Northern Michigan University in 2000, she earned Great Lakes Intercollegiate Athletic Conference Freshman of the Year accolades and led the Wildcats with 354 kills, 351 digs and 49 service aces in her first year.
Now in 2002, only one thing has changed about Koralewski's game. She plays for NKU.
Koralewski racked up 19 kills, 14 digs and attained a .375 hitting percentage while helping the Norse hand Southern Illinois University at Edwardsville its first conference loss earlier in the season.
Koralewski is currently No. 3 overall on the team with 267 kills and No. 2 with 252 digs.
Koralewski said she came upon NKU's volleyball program partly by chance. At the end of last July, Koralewski said an opportunity to enter a better program such as NKU came along when her coach transferred to another divisional school.
"At that point I felt that I had an opportunity to go to a better program," said Koralewski, "a better program that fit my ability better as well."
Koralewski did recruiting herself by calling various schools to find out which program fit her the best. NKU ended up being her match.
When she first came here Koralewski said she didn't know what to expect. "It's hard for me to have any thoughts about what's going on right now because I didn't know what to expect coming into the program," said Koralewski. "I knew I had to work my hardest and I knew the girls on the team are giving a 110 percent."
Koralewski's play this season has helped the Norse to an 18-7 overall record, and 9-2 Great Lakes Valley Conference record.
"I really want us to play together as a team," she said. "To play hard and to give a 100 percent."
Koralewski's personal goal for the season is simple. To fit in.
"I really want to connect to the team, especially with the setter," she said. "I expect out of them, what I expect out of myself."