Delta Zeta turns 100 years old
Samantha Warner , Features Editor
October 28, 2002
Filed under News
Hang on for a minute...we're trying to find some more stories you might like.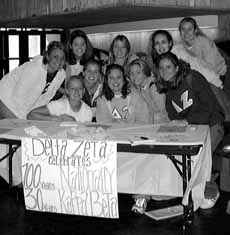 Samantha Warner
From left to right: Maggie Mccord, Kristin Williams Karen Hoffmeister, Kristi Britton, Beth Fortner, Lauren Lengle, Sara Barry, Nicole Euler, Lauren Kasey and Crissy Asalon.
Delta Zeta sorority was 100 years old nationally and 30 years old at Northern Kentucky University on Oct. 24, making it the oldest sorority on Campus.