Senior nominated for acting award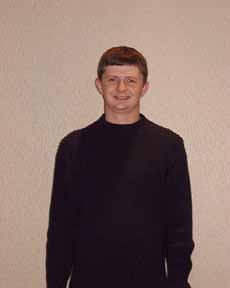 D.J.Carter
David Scott Morgan, a senior Theatre and Dance major has been nominated in the Best Actor category of the Cincinnati Entertainment Awards (CEA) for his performance in David Sedaris' "The Santaland Diaries," produced by New Edgecliff Theatre at the Arnoff Center last December. Morgan is one of only four nominees in this category in the city of Cincinnati.
NKU audiences may remember Morgan from his performances in Summer Dinner Theatre productions of "Arsenic and Old Lace" and "Ruthless" as well as regular season productions of "The Return to Morality" and "Rumors."
When asked how he felt about being nominated in the Best Actor category Morgan said he was shocked.
"It was nice to be noticed for something that I worked very hard on and spent a lot of time on," said Morgan.
"There's a group of critics that get together and watch a lot of shows in the greater Cincinnati area," Morgan said.
These people then get together and choose four people for each of the categories, Morgan said.
The general public votes for the nominees either through mailing in their votes to CityBeat or going on the Internet and voting on the Cincinnati Entertainment Awards Website, said Morgan. CityBeat also has a link on their website.
According to Morgan, preparing for roles depends mostly on the material. "If the material is something like a serious piece, I approach it that much differently than I do something that's like the "The Santaland Diaries'" and "Season's Greetings" because they're comic in nature and it's someboy's personal views about their experiences," said Morgan.
"So I try and learn as much as I can about them as a writer and about David Sedaris himself," said Morgan.
When he was fifteen Morgan took acting classes from Warren Hammick and at the 'Horse Cave Theatre,' which is in Southern Kentucky.
"I took a couple of classes there and I wound up doing a couple of shows there," Morgan said.
"I enjoyed it so much I auditioned for some colleges and decided that NKU was best for me," said Morgan.
Winners of the CEA Awards will be announced Monday, Nov. 25. For more details and to cast your vote for Morgan, visit: www.citybeat.com.