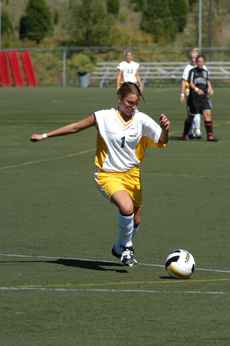 Tim Downer/ Athletic Dept. Photographer
The men's soccer team is just two conference wins away from clinching a spot in the upcoming Great Lakes Valley Conference Tournament, but it won't be an easy task.
Upcoming games at Bellarmine University Friday and Kentucky Wesleyan College Sunday should favor the Norse. The Knights are currently just 3-5 in the conference, while Kentucky Wesleyan is winless at 0-8.
If NKU can defeat both teams this weekend, it will clinch a birth in the tournament, otherwise the Norse will need some outside help.
"We are approaching the next two games with a sense of urgency," said junior mid-fielder Bobby Pifer. "We have to work hard and concentrate on the game in hand if we want to come out victorious."
The Norse is just 2-5-1 in the GLVC, and 5-7-2 overall this season, struggling to find victories each and every week. Oct. 18, however, the Norse had no problem defeating conference foe the University of Indianapolis, 3-1.
Goals by Chris Barwell, Nate McCall and Jeremy Roberston propelled NKU to just its second win in the conference, but kept its hope alive for a birth in the conference tournament. The Norse had high expectations coming into the season, but poor performances against conference opponents set the team back.
"We haven't achieved anything we wanted to at the beginning of the season," said Pifer. "We expected to be a top team in the GLVC, but we haven't played well enough all season to be."
Communication and teamwork are the keys for the Norse if it plans on beating Bellarmine and Kentucky Wesleyan, and extending its season.
"We have to go play the games, and iron out some of the things we've struggled with during the season," said senior captain Kevin Morath, "which is working as a team. We have to come together as a unit and gel if we want to win."