NKU wins showdown at Lewis, 3-1: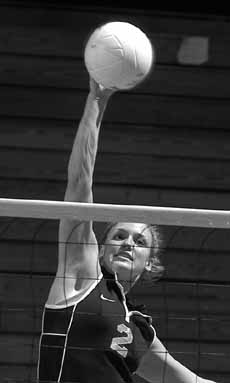 Tim Downer/Athletic Dept.
ROMEOVILLE, Ill. – Maggie Pugh recorded 18 kills, five blocks and a .316 hitting percentage Saturday afternoon as the Northern Kentucky University volleyball team defeated Lewis University, 30-27, 30-19, 23-30, 30-26.
Cammi Welter added 15 kills and 30 digs as NKU won its sixth consecutive match and improved to 13-7 overall.
The Norse also upped their Great Lakes Valley Conference record to 7-2 and tied Lewis (19-2 overall, 7-2 GLVC) for first place in the conference standings.
Kristin Koralewski finished with 14 kills, two service aces and 17 digs for NKU, which has won nine of its last 10 matches on the Flyers' home floor. Lewis – ranked No. 24 nationally in the NCAA Division II poll – defeated NKU in Regents Hall last month, but the Flyers hit just .190 on Saturday and dropped their first home match of the season.
NKU finished with a .224 hitting percentage and 108 digs on Saturday. The Norse now lead the all-time series with Lewis, 21-11.
Sara Taylor, who leads the GLVC in assists per game (13.59 apg), finished with 70 assists and 14 digs. Nicole Salisbury also recorded a double-double with 15 kills and 13 digs. Kaliana Kalache had 12 kills and seven digs, while Amber Timmons recorded 13 digs for the Norse.
NKU will return home to meet Bellarmine at 7 p.m. Tuesday. The Norse will also play a non-conference road match at the University of Findlay at 7 p.m. Wednesday and a home match against Quincy at 7 p.m. Friday.