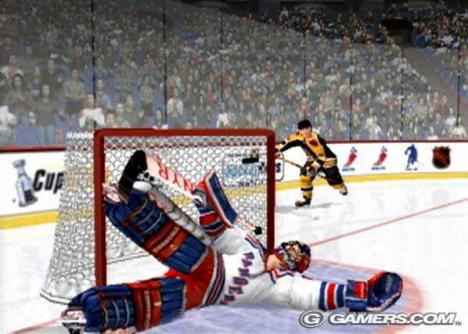 With the NHL season just getting underway, millions of fans are looking forward to watching another hockey season unfold. 'NHL 2003', the newest game in the hockey franchise, adds to that experience, offering fans a chance to join in the action.
Published by Electronic Arts, NHL 2003 offers four game play modes: play now, franchise, playoffs, and international.
Play now is the way to go if you're looking for a quick game. Simply pick your team and get playing.
However, the most fun can be found in the franchise mode. Here you get to select your favorite NHL team, manage the team, play the regular season, and, if you're lucky, go after the elusive Stanley Cup.
Game play is good overall, with fast-paced, smooth action for a high level of fun. Also, the vast number of options allows each individual to customize the game to the way they like. For example, if you enjoy checking you can turn off the penalties so that none of your hard checks put you in the penalty box.
Thankfully, load times are very acceptable in NHL 2003, which means you spend your time playing, not waiting.
In terms of graphics, the game is pretty good. On the whole, the players are nicely done, but the player's faces look awkward. Also, the rinks are very realistic, adding nicely to the game.
One very nice, although minor, feature of the game is the sound. Commentary is good, yet silly phrases by the announcers are ever present. One nice feature is the music from "EA Sports Trax", displayed as a dialogue box that shows in the bottom right hand of the screen.
Featured songs include "Sweetness" by Jimmy Eat World, "She Loves Me Not" by Papa Roach and "Deny" by Default.
While the game is solid overall, there are problems. First, there are a few new features that detract from the game play. There is a new feature where you can accumulate points by performing tasks, such as 10 checks in one period. Upon receiving enough points you can purchase NHL Cards, which are used to enhance your players and downgrade the play of your opponents. While a worthy try that some will like, it just took away from the overall game play.
Also, a new Game Breaker feature, which puts the player in slow motion, actually makes it more, not less, difficult to score. In the end, people buy the game for the real hockey so these small features should not deter potential fans. Overall, 'NHL 2003' receives a final score of 7 out of 10.
As a hockey fan, I definitely enjoyed the hours spent piloting the Rangers, my team of choice, to the Stanley Cup. However, I hope that 'NHL 2004' fixes a few of the problems found in this version. Still, if you're a hockey fan and want a game for your sport, this is the best out there.