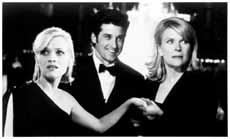 Photo contributed
Sweet Home Alabama opens with two young kids, Melanie (Reese Witherspoon) and Jake (Josh Lucas), running on a beach in Alabama while lightning flickers overhead.
Flash forward 18 years and now Melanie Carmichael (she changed it from Smoother) is a fashion designer in New York City, a whole new world from her beginnings in Alabama.
Designing her own clothing line and dating Andrew McDonnel (Patrick Dempsey), the mayor's son, Melanie's life seems perfect in NYC, especially when Andrew proposes to her at Tiffany's.
However, there is just one problem