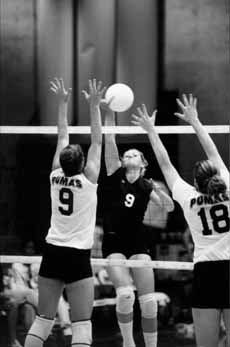 Time Downer
Junior volleyball player Nicole Salisbury was named Great Lakes Valley Conference Player of the Week.
"I was surprised," Salisbury said. "I was really excited, and I worked really hard to get to this point. I've really improved a lot since I came here in January up until now."
Choosing Salisbury was an easy pick.She started the week with 14 kills, 12 digs and a .303 hitting percentage in an 3-0 win over Missouri-St. Louis on Oct 1.
Next, a career-high 27 kills, 10 digs and a .316 hitting percentage as the Norse came from behind to beat Southern Illinois University at Edwardsville, 3-2, the Rangers' first loss of the season.Those numbers put her first on the team with 170 kills and 130 digs and second in hitting percentage at .298.
Salisbury finished the weeks with 21 kills and a .529 hitting percentage in a home win over Georgetown College. She added 11 digs and two service aces on the way to NKU's sixth consecutive victory.
For the week, Salisbury averaged 20.5 kills, 11 digs and a .311 hitting percentage.
Coming south was a change for Salisbury,
"I'm really an outdoors person," she said. "I'm from Michigan, so I grew up outdoors.
Was coming to Highland Heights an easy decision? Salisbury said