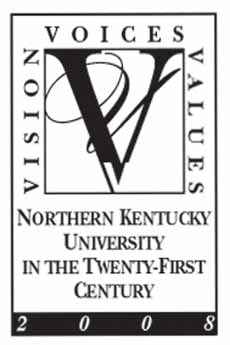 Progress made in the last five years under Northern Kentucky University President James Votruba's direction has set the stage for future development.
Future plans to evaluate, define and strengthen NKU's mission and core values are being discussed in a program called "Visions, Values and Voices." A presidential panel will work with faculty, staff, students, and members of the community in a series of interactive meetings.
The initial Postsecondary Education Plan will come to a close in February 2003.
Since Votruba became president of NKU in 1997, enrollment has increased from 11,000 to 14,000 students, 100 new faculty members have joined NKU, and the construction of the $38 million, state-of-the-art Natural Science Center has brought NKU national recognition.
On Oct. 1, the panel met with NKU faculty to reassess the Postsecondary Education Plan and its potential direction for the next five years. Faculty members were asked to express their thoughts on what NKU's "defining characteristics" should be for the future. In response, faculty agreed on the importance of keeping the university "learning centered" with a close faculty/student ratio, the continued recognition of NKU as an established commuter institution, and increase in academic standards among current and hopeful students.
Those in attendance also mentioned the need to rebalance the ratio of full and part-time faculty members and look toward employing a majority of full-time staff, with an increase in the number of professors with doctorates.
While the university continues to advance through architectural growth and student enrollment, the main concern among faculty is in maintaining the interactive, personal teaching environment the university has been recognized for. A "learner centered" reputation has become NKU's "calling card", and rightly so, considering the benefits of small classes, the free teaching styles of the faculty, and the undergraduate research opportunities available.
Faculty members have heard students commenting positively on the close, stable learning environment offered at NKU, and feel a strong need to oppose the threat of losing healthy faculty/student relations in the shuffle if NKU continues to expand.
In order to remain a financially confident and educationally stable learning institution, NKU will need more state funding to accommodate the steady growth of the campus. Votruba said that by 2006 it won't be possible for NKU to take on any more projects or advancements without impacting quality, if the university cannot get necessary funding to help with the expansions.
Votruba and the panel hope the publicity directed at NKU by the opening of the new Natural Science Center and the positive public recognition the university has received lately as a result of civic engagement efforts, has the community talking.
The meeting, held Oct. 1, was only the 5th of 30 interactive conversations between NKU faculty, students and the surrounding community. All are invited and all are encouraged to participate.
For information on the next meeting, visit NKU's website at www.nku.edu/~visions/