No. 1 Norse defeat UW-Parkside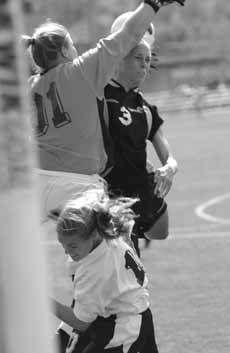 Joe Ruh
WILDER, Ky. – Kristen Noakes and Kendra Zinser both scored goals Sunday afternoon as the Northern Kentucky University women's soccer team defeated the University of Wisconsin-Parkside, 2-0, at the Town ' Country Sports Complex.
Amy Martini and Bessie Black recorded assists for NKU, which is ranked No. 1 nationally in the NCAA Division II poll. The Norse are 11-0-1 overall, 5-0-1 in the GLVC. Wisconsin-Parkside dropped to 6-1-1 overall, 3-1-1 in the GLVC.
Noakes gave NKU a 1-0 lead at the 36:41 mark after taking a corner kick from Martini and sending a shot into the left side of the goal. Zinser sealed the victory for the Norse 11 minutes into the second half when she took a lead pass from Black and chipped in a shot over goalie Abbigale Wild.
The NKU defense picked up its sixth shutout of the season and limited the Rangers to just six shots. NKU goalies Megan Zalla, Sam Westerling and Jennie Ulrey combined for the shutout and three saves.
NKU is now 34-0-3 in its last 37 matches against GLVC teams. The Norse have not lost to a GLVC opponent since Oct. 9, 1999, when Southern Illinois University at Edwardsville posted a 3-1 win over NKU.
NKU will play a non-conference match at Hillsdale (Mich.) College at 3 p.m. this Friday.