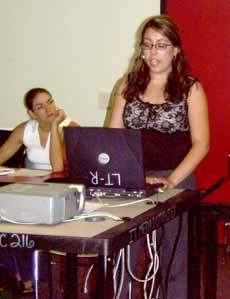 Stacey Sutton
The expansion of the office of Latino Student Affairs was among the most talked about proposals Oct. 3 at a discussion on "Education: Are We Meeting the Needs of Latino Students," sponsored by the Latino Student Union, Students Together Against Racism, Black United Students and the International Student Union.
The office is currently run by one, full-time staff member, Coordinator Leo Calderon, who is responsible for, among other things, recruiting and retaining Latino Students.
"We have to enlarge that office," said Irene Encarnacion, a lecturer in the Literature and Language Department and advisor for Amigos, the Spanish club. "Because having an office that is just dedicated to Latino students is something that other universities do not have."
"If we have an office, which the purpose of that office is to dedicate their time to Latino students, I think that's amazing," she said.
"[Who] do we go to in order to expand [the] office?" asked Melissa Alvarez, president of the Latino Student Union.
Jerry Smith, assistant vice president for Enrollment Management, said possible budget cuts were hampering the office's expansion.
State legislators have had difficulty coming up with a budget, leaving NKU officials in the dark about the institution's operating budget.
University officials have been preparing for budget cuts as high as 5%.
Smith said he had just come from meeting where President Votruba said the cuts could possibly be deeper.
"When you talk about taking 5% away from an operating budget of an institution it's not a time when you can talk about expansive moves," said Smith.
"They're great ideas, they're wonderful ideas, but the vibrant economy of Kentucky and this country is gone right now. Higher education is hurting throughout the country, it's hurting, it's bleeding in Kentucky," he said.
Smith suggested Latino organizations position themselves so they are ready when funding does become available.
"I think what we're going to have to do is find some ways to enhance what we've got for right now and posture ourselves for movement in the things that you're talking about when the funding will allow that."
Smith said it is possible that Calderon will be relocated, at least some of the time, to the Welcome Center NKU wants to build as a central entrance way to the University.
"We're talking about expanding Leo's office over here, where I'm looking at some ways to stretch what I've got and I've already kind of forewarned Leo that he may have to be at [the] welcome center part of the time," Smith said.
"That will hurt us so badly," said Encarnacion.
"We're not going [to have enough people] to push for an office," said Luisa Gomez, vice president of LSU. "But if we get more people to come in it's going to be something the University has to do."
"What Leo represents is an investment in the future and we don't want to undermine that investment," said Smith. "On the other hand if there's a five percent or more budget cut it's got to come from somewhere."
"Well I'm going to tell you we're not going to give up [on the expansion]," said Encarnacion.
"I don't want you to give up," said Smith.
Dr. Tom Rambo, a professor in the department of biological sciences who occasionally conducts research in Costa Rica, stressed the importance of making Latino organizations and events more visible in order for the expansion to take prominence with NKU officials.
Holding events in more visible locations and the creation of promotional T-shirts were among the ideas discussed at the meeting.
"I think that the most important need to begin with is to get these people who are Latinos to feel included and to be part of the group," said Gomez.