Exhibit displays 19th century Kentucky life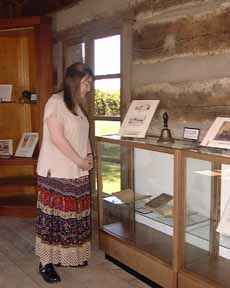 Lori Cox
The first annual Kentucky Archives Week opened at NKU Monday with a week-long exhibit housed in the log cabin that sits off of Nunn Drive.
The exhibit features a sample of artifacts from the Steely Library archives that center around "all things that are representative of Northern Kentucky in the 19th century," said Jennifer Gregory, Curator and Archivist at Steely.
Among the artifacts on display are passports and immigration papers, which represent the effect of the population explosion on Kentucky, and a diary kept by a Civil War soldier, which reveals what his day to day life was like.
Photographs are also on display, including a picture of the Newport volunteer fire department in the mid-1800's standing in front their pumper.
In order to preserve the originals, the artifacts on display are copies, Gregory said.
She said the originals are available for viewing in the archives at Steely Library.
According to the Kentucky Department for Libraries and Archives, there are almost 300 archival and manuscript repositories in the state that hold archival records that document Kentucky history and life.
Many of these institutions are participating in the week as a way to highlight the materials available for research.
In addition to displaying the materials, the Steely Archives exhibit will serve as a sort of coming out party for log cabin, which usually sits quietly off to the side of the road.
"Originally we said we wanted to open [the log cabin] at one point and decided it would be a great time to do that," Gregory said.
She said the cabin had to undergo some renovation to house the exhibit, including repairing shutters so the windows could be opened.
Gregory said there are plans to use the cabin again, but since it can't be heated or cooled, the times of the year it can be used are limited.
She said she is currently working to find volunteers to help keep the log cabin open to the public.
The exhibit will run 1 p.m. to 4 p.m. through Oct. 11. Admission is free.