Officials break ground for campus housing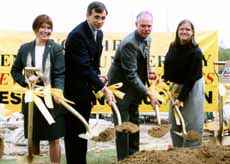 Stacey Sutton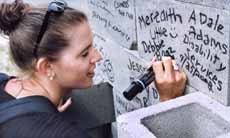 Stacey Sutton
More than 200 people gathered at an afternoon campus ground-breaking ceremony last week to find out: If we build it, will they come?
Last Wednesday, the university announced construction plans for a new 118,000 sq. ft on-campus housing project, which hopes to address university concerns of future overcrowding and alleviate campus growing pains.
With rising enrollment and occupancy rates, this is the right time to expand said Todd Duncan, Director of University Housing.
To accommodate the recent enrollment increases and the demand for on-campus housing, the new 400 bed apartment-style dorm is being built on Campbell Drive, just north of the existing Residential Village.
It will increase the on-campus student population from 1000 to 1400.
Site clearing for the project began in late July.
The new dorm should be complete by next summer, and ready for occupancy by fall 2003. According to Duncan the construction is off to a good start.
The structure's exterior should be coming up within six to eight weeks, he said. So far there have been no delays.
Once complete, the dorms will include three elevators, interior corridors, large bedrooms, floor lounges, a computer lab, a multi-purpose room, and a laundry facility. Each resident will have their own telephone and data lines for Internet access.
The apartments will house four students each, with the option of two separate floor plans: four bedroom(single occupancy) or two bedroom (double occupancy).
Residency in the new unit will include a diversity of new and upper-class students.
Furthermore, certain wings of the unit may be designated in efforts to group like-minded students together. For example, a Social Justice wing is being planned.
The current marketing plan is that current residents will be given priority to live there, but there will be a balance between students, said Duncan.
More information about registration will come soon, said Duncan.
Messer Construction, is in charge of the $14.5 million project. They are aided in design by Luckett and Farley Architectural Firm; Beacon Electric; and AMPAM Mechanical HVAC.
Duncan, a veteran of housing-expansion, ensures the project will be done right. This is his fourth major building-opener, and he has built more than 1000 beds in other units.
The Department of University Housing has organized a campus-wide contest to name the new structure.
So far over 30 ideas have been submitted.
Suggestions reflect names from campus geography, political leaders, etc.
Duncan said some good ideas have already been submitted.
Ideas can be submitted at University Housing