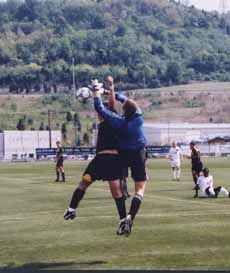 EDWARDSVILLE, Ill. – Mike Ngonyani and Sean Huneke both scored goals in the final 10 minutes Sunday afternoon as the Southern Illinois University at Edwardsville men's soccer team defeated Northern Kentucky University, 3-1.
Ngonyani snapped a 1-1 tie at the 80:28 mark with a goal that was assisted by Yuzuru Takami, and Huneke added an insurance score at the 82:05 mark. SIUE improved to 5-2-1 overall, 4-0 in the Great Lakes Valley Conference.
SIUE scored seven minutes into the match when Josh Hickam found the net off an assist from Takami, and the Cougars took that 1-0 lead into halftime. NKU's Jeff Anderson, however, netted a goal at the 69:34 mark off an assist from Joaquin Palomeque to tie the score at 1-1.
SIUE attempted 21 shots and limited NKU to just 11 shots. The Cougars also held a 10-4 advantage in corner kicks.
NKU dropped to 3-5-1 overall, 0-4 in the GLVC. The Norse, who have lost four straight matches, will play host to Lewis University at 5:30 p.m. Friday night at the Town ' Country Sports Complex in Wilder.