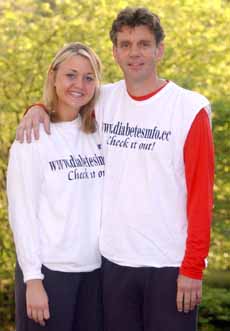 Patrick Reddy(Cincinnati Enquirer)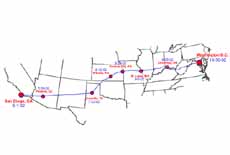 Her father gave a gift of a lifetime to Maggie McCord on her birthday May 1, 2002.
In an effort to raise support for Diabetes research Jim McCord, 45, of Ft. Thomas, is running from San Diego to Washington D.C, a distance of approximately 3,000 miles.
When he reaches Washington D.C. he will present the President with a petition to increase The National Institute of Health funding for diabetes research to $2 billion.
Ms. McCord, a junior at NKU, has had Type 1 Diabetes, also known as "Insulin Dependent," for 11 years.
"Diabetes is so under funded. In Washington, the squeaky wheel gets the grease," Mr. McCord said.
According to Dr. William E. Winter, a professor at University of Florida College of Medicine, 33 percent of patients with Type 1 diabetes will live to the age of 55. Of those who live to the age of 55, 12 percent will be blind.
Diabetes is the leading cause of blindness and kills four times as many people as AIDS and Breast Cancer combined, according to the National Institute of Health.
"Physically, this has been a very challenging crusade," Mr. McCord said, "However, it's nothing when I think of the suffering that millions of diabetics are going through daily."
Mr. McCord is currently about 200 miles outside of Cincinnati with close to 350 miles to go.
Running 26 miles a day, with a rest every fourth day, he plans on reaching Washington D.C. on Nov. 1., a mere six months from starting.
"When he first told me what he was going to do, I thought he was nuts," Ms. McCord said. " A few months later, after he…started his training,, [made] plans for his route, and getting sponsors, I realized he was actually going to do it."
Ms. McCord spent six weeks on the road as a driver for her father.
Ms. McCord outlined a typical day trekking through the Arizona deserts, Phoenix, New Mexico, Kansas and Missouri.
"4:30 a.m.