Emailing the news straight to you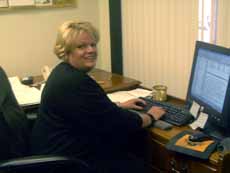 Brittany Contois
Who in the world is Betty Mulkey and why does she keep sending me e-mail messages every week?
The answer is simple Mulkey is the Director of Student Life at Northern Kentucky University and those messages are a electronic news letter called N3, or the Norse News Network, delivered each week to NKU e-mail accounts. Mulkey says that the goals of N3 "to make students aware." She says that "we know that they may not choose to participate in some of the things that are advertised on N3, but we just want to know they are aware of them."
The newsletter is designed to help students become aware of programs going on at NKU such as "Thunderbucks," women's self-defense classes, club meetings and opportunities to study abroad.
Mulkey says that N3 was started three years ago with the hope to make students aware of such things as registration deadlines, dates for withdrawal, what Student Life does, the opportunities they have available and what student organizations are doing.
Things that students will not see in N3 include personal messages, lost and found ads and classifieds, unless they are job opportunities that have opened up on campus.
Mulkey said, what "N3 has become is a vehicle to connect students with the university in some way." She says she receives several e-mails each week from students who are looking for a contact to find out more information about the topics discussed in N3. One advantage to N3 is that if a student is reading an article and finds the news interesting, there is generally a contact name or number of someone who can be reached for more information.
For those students who do not use their NKU e-mail accounts, the N3 newsletter can also be found at www.nku.edu/~studentlife/n3 or by having their NKU accounts forwarded to any account that they may be using.
Mulkey says that students who would like to have an announcement published in the newsletter should send their request to studentlife@nku.edu by noon each Monday in order to be printed in that week's edition.
So next time you check your NKU e-mail account, think before you click delete on the message from Betty Mulkey, it may just have important information that may interest you.