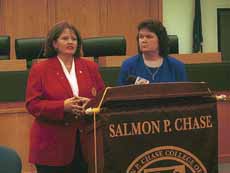 Brittany Contois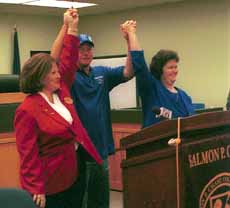 Brittany Contois
A mock courtroom in Nunn Hall was filled with local media, law students and other community members for a press conference Friday, Sept. 20 to discuss Herman May's recent release from prison and the Kentucky Innocence Project.
"This is a special day for all who care about our justice system," said Dean Gerard St. Amand, Chase College of Law.
Herman May was released from the Kentucky State Penitentiary Sept. 18 after spending 13 years behind bars for a rape he did not commit. His release was made possible by the work of the Kentucky Innocence Project and two students of the Salmon P. Chase College of Law, Debbie Davis and Beth Albright.
"Without the Innocence Project and Chase, I'd still be in prison," May said. "They are a great bunch of people and I owe them my life."
May was skeptical when he first heard his case was being researched by two law students. He began to trust Davis and Albright after they made the effort to come see him and asked serious questions about his case, he said.
The first task for the students was finding the evidence from May's trial.
The evidence was originally stored in a courthouse that caught on fire. It was then moved to another building, which later flooded.
When the evidence was found, it was DNA tested. A Y-chromosome test was also done, which, ultimately, exonerated May.
The Y-chromosome test looks specifically at the male chromosome and is very accurate, according to Davis. "Exclusion on this test means you were not there – you didn't do it," she said.
It took 18 months, but "we knew it would come out this way. We just had to wait," Davis said.
May said he was stunned to hear the news that he was being released from prison. His parents, who never gave up hope or faith in their son's innocence, were there to meet him when he was released. "Seeing my parents was the greatest moment of my life," he said. "I've been hugged more this week than in my entire life."
When he was convicted, May was very angry.
"I didn't know what was going on," he said. "[But]even in there you can learn things…I learned about people."
May is not angry or bitter anymore and holds no ill-will toward the victim who identified him as the perpetrator. "I realized she had been through a terrible ordeal and I hope she's living the best life she can," he said.
Mr. May always maintained his innocence. Three years ago, he was eligible for parole, but was turned down because he refused counseling for sex offenders. May chose to stay in prison rather than admit to something he didn't do.
The Innocence Project is proving there are serious problems in the justice system including mistaken identification and bad forensics, which lead to the conviction of innocent people, according to a representative from the Dept. of Public Advocacy.
The DPA contends that as many as 10% of inmates may be innocent. In Kentucky alone, that would mean there are currently 150 innocent people incarcerated.
The Kentucky Innocence Project is a class offered at Chase in which students, along with attorneys from the Department of Public Advocacy, help prisoners who may be proven innocent with genetic testing.
Dean St. Amand thought it fitting that the dedication of the Natural Science Center and the press conference were held on the same day. Just as the new science center "brings together so many disciplines of science, the Innocence Project integrates the disciplines of science and law to improve our justice system," he said.
"The class teaches the students skills they will need to practice law and accomplishes a worthwhile goal – the release of wrongly convicted people," said Mark Stavsky, one of the supervisors of the program and Chase professor.
The program is in its second year at NKU and Mr. May's case was one of the first to be received and researched. Ten new students will be investigating the alleged innocence of 10 Kentucky inmates during the 2002-03 academic year.
As for May, he would like to further his education and, possibly, learn about computers.
"Everything's changed…I have to start over," he said. "I wish I had the years back, but I've got to move on. I can't live in the past or I won't have any life at all."
May's advice to other innocent prisoners: "call the Innocence Project quickly."