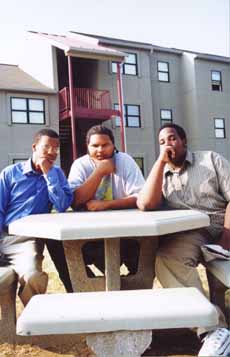 Bryan Barnett , Rodney Todd , Jermar Mack
Black Men's Organization has been successfully resuscitated and is now in fair condition. After three years of remission following its official termination in 1999, due to lack of interest and unmotivated members, it has returned to help black men cope with college life.
So does this means there's something terribly wrong with these men?
Not on an epidemic scale. It just means there is another alternative to pledging allegiance to Greek organizations. But like fraternities, BMO is designed to assist these men in improving themselves through programs and activities on and around campus. It also serves as an outlet for expressing feelings and concerns as well as promoting unity among black men in general.
Heading the revitalization efforts is Jermar Mack, BMO's president and member of Phi Beta Sigma. The 20-year-old freshman from Louisville became interested in reviving the organization after learning about the University's retention problem concerning African-American males. His goals include increasing the number of activities and programs that would appeal to this specific group.
"There's many things oriented around [black] women and for the women, but there's not that many things for the males," Mack says. "The males get unmotivated and thus they stray away from doing things. Thus they fall down in their grades. They may have a lack of just staying up here on campus."
State of Affairs:
NKU's black men come from diverse milieus: suburbs, urban and rural districts, raised in single and traditional parent homes and so on.
Despite this, Mack feels their backgrounds shouldn't have much on effect their degree of academic success. He said they all can become successful people given the opportunities afforded at NKU.
BMO's Vice President Rodney Todd, said "The successful Black males