'Banger Sisters' warms the heart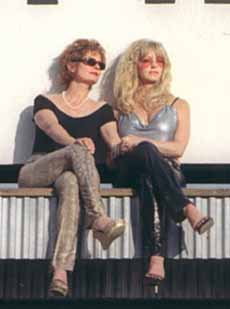 Photo contributed
Two hot old chicks, an anal retentive writer, and a couple funny teenagers make up the cast in Bob Dolman's directorial debut with The Banger Sisters, which opened in theatres this past weekend.
Goldie Hawn and Susan Sarandon headline this touchy-feely comedy about a couple of former rock groupies that meet up twenty years after parting ways.
Suzette, played by Hawn, is still the free-spirited party girl of yesteryear. On the flip side, Vinnie, played by Sarandon, has put her raucous past behind her and traded in her bell bottoms and platform shoes for a plush lifestyle with her rich husband in the suburbs, complete with a minivan and two teenage daughters.
The two find themselves face to face after years of not seeing or speaking to each other when Suzette travels to Phoenix to seek out her long lost party pal, hoping to rekindle the friendship that they once had (and to score enough cash to pay some bills).
Once Suzette arrives in Phoenix, she finds Vinnie to be less receptive than she had hoped for. After a rocky start, the two begin to pick up where they left off.
Before Suzette can even get to Phoenix, she meets Harry, played by Geoffery Rush, a screenwriter who has failed at everything he has ever attempted to complete in his life, according to him.
In exchange for a tank of gas, Suzette agrees to give Harry a ride to Phoenix. Harry is trying to get to Phoenix to finish his screenplay and kill the one man responsible for all of his life's misgivings, his father.
Suzette and Harry strike up a peculiar friendship right off the bat. After finding out that it has been ten years since Harry has been with a woman, Suzette bestows it upon herself to bring Harry out of his rut.
After seducing him with her claim to fame that she is "the best hand job giver in the world", Harry relaxes and lets nature take its course. Feeling better than he has in years, Harry begins writing like a madman and finally has the guts to finish the screenplay he hasn't been able to finish in over a decade.
Meanwhile, Suzette's free spirited personality begins to rub off on her old friend Vinnie. She begins to realize that she has lost herself over the years, and decides she does not like who she has become. This leaves Vinnie's family bewildered by her behavior and culminates to a thrashing climax when her husband finds the two former rockers in the garage smoking marijuana and playing an old groupie game, Cock Rock.
In addition to the pot smoking, the wine drinking from the bottle and the swearing, the two Banger Sisters (a name they got from rock legend Frank Zappa) provide the audience with scene after scene of memorable moments.
Hawn and Sarandon steal the movie with their polished performances and their veteran screen experience invoke the rest of the cast into star performances.
Instead of being plagued into the category of just another, "chick flick", The Banger Sisters provides laughs and warms the hearts of men, women and teenagers. The predominant theme of the movie, don't lose track of yourself, or "be real" as one character puts it, is something we can all relate to.
Two thumbs up.