Running Norse fight hard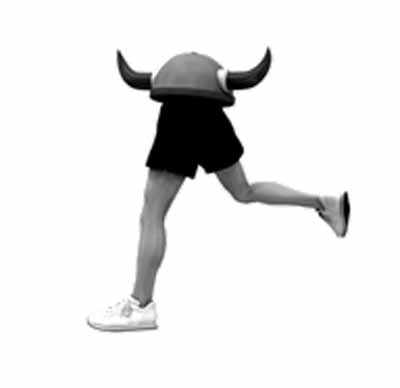 Stacey Sutton
Yes, you've seen them. They toil everyday on the road and track to better themselves and their team. They're hard to miss. Maybe you look at them, remembering those laps some coach made you run as punishment or just how hot it is, and you think: "Man, crazy people." Maybe you smile and think: "Wow." Maybe you sense an inspirational kind of kindred spirit, of the heart and of the goodness of the pack, stirring a guttural: "Go Norse!" Whether Crazies, Wowers, or Norse, these folks deserve their props.
Both the men's and women's teams are coached by former NKU and University of Cincinnati runner Steve Kruse and assistants Jill Tranter, Michael Moyer and Joe "The Scar" Zeinner, dynamite local runners. Both teams train, travel and compete together. Neither is satisfied without the success of the other. I've seen NKU runners run their hearts out to exhaustion, then get up, wiping sweat and vomit away, just to run and cheer on the other team. The sport has little limelight and they're each other's number one fans. Maybe Cross Country takes their special kind of knowing to be spectator friendly.
The teams should know they're fighting hard this year. Thus far they've ran three meets. At the Bellarmine Invitational the women placed third of four teams and the men a well-earned second of seven teams. The Miami Redhawk Invitational was tough. Against solid Division I competition the women placed sixth of six and the men fifth of five, but each made great individual gains. This past weekend they ran at the Cedarville Invitational; in Yellow Springs, Ohio, and the women finished a hard fought third of six teams and the men fifth of eight teams.
The women are led by veterans senior Elaine Koenig, junior Anna Moore and senior Erin Engel. Koenig clocked a 19:18 for a second-place finish at Bellarmine