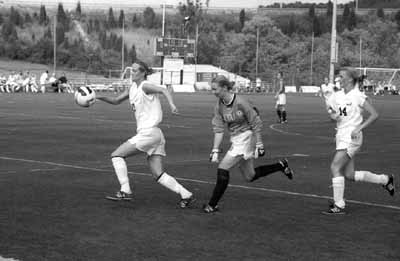 StaceySutton
The NKU women's soccer team remained unbeaten on Sunday with their biggest win of the season, 1-0 over Christian Brothers University. Christian Brothers was ranked No. 1 in the nation coming into the game.
Junior forward Aisling Callaghan scored on a penalty kick at the 82:32 mark in the second half to give the Norse the victory. Senior Stephanie Sandfoss was held up on a breakaway that forced the penalty kick call.
The game was a hard-fought defensive struggle where scoring opportunities were very hard to come by. NKU outshot Christian Brothers 10-5, but overall the two teams were very evenly matched.
Coach Bob Sheehan called the victory a total team effort, but he was particularly impressed with the team defense. "It all starts in the back," he said, "and I thought our keeper Megan Zalla and our defenders were really solid." Freshman defender Ashley McGuffey in particular kept Christian Brothers off the scoreboard in the second half when she made a terrific sliding stop against forward Margaret Saurin, who was on a breakaway. Callaghan, who transferred to NKU from Ireland, scored her fourth goal of the season and admitted that the team had been waiting for this game. "We try to take every game as it comes, but we definitely kept one eye on this one in particular," she said.
Coach Sheehan agreed that the victory gave the team an idea of how good they can be. "It's important from a self-confidence aspect in that we know we can compete with the best teams in the country," he said.
Next for NKU is conference play, which begins Friday against Southern Indiana. The Norse improved to 6-0 on the season, but still plan to keep practicing hard and continue to get better with each game.
"We're pleased with the progress and development of the team, and hopefully we'll continue to improve," Coach Sheehan said.