New security measures address campus theft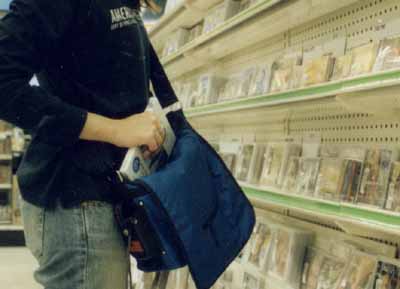 Have you ever left your backpack in the hallway while you went to the restroom? Ever left your car windows down while you went to class? Ever left your doors unlocked? If you answered yes, you may be well on your way to becoming a victim of theft.
Since August 1, 14 thefts have occurred on campus according to Lt. Col. Jeff Martin, operations commander for the Department of Public Safety. Martin says that students should realize they can take steps to prevent themselves from being victimized.
"The majority of thefts have really been avoidable," Martin said.
Since the items most commonly stolen on campus are backpacks and parking decals, he recommends that students avoid leaving backpacks unattended and avoid leaving car windows down.
Jeff Butler, director of public safety, agrees and urges students to be cautious.
"Don't make yourself an opportunity for a thief," said Butler.
While students can take some simple steps to protect themselves, DPS is also taking some steps to protect the campus from theft. "We have patrols out all hours of the day," Martin said. Also, the cadets employed by DPS help by reporting suspicious activities.
Recently, DPS applied for a grant to fund new security features across campus. Unfortunately, the grant had already been used, so DPS must now wait for future grant sessions or seek other funds.
"We will keep looking," said Martin.
Once the needed funds are secured, DPS hopes to install many new security features throughout the campus. One important aspect of the DPS plan is the installation of a new campus-wide camera system.
Currently, there are a couple cameras installed in certain high-tech rooms on campus, like computer labs. DPS also has a couple surveillance cameras they can temporarily install if needed.
According to Martin, these surveillance cameras are installed in areas DPS determines are "problem areas" – areas in which multiple thefts have occurred. Over the summer DPS arrested a suspected thief using these surveillance camers. That case is pending.
The camera system DPS wants to install will cost just under $500,000. DPS wishes to install the cameras in high-tech classrooms, most hallways in campus buildings, as well as, other areas.
The system allows live viewing via the Internet and will record the video feed from each camera.
In the event of a theft or other disturbance, DPS would be able to review the tapes to determine what happened and, most importantly, who was responsible. Also, Martin said having the tapes would help immensely because there would "not be a need for someone to observe the cameras at all times."
"I think the system is an opportunity for us to move forward," Butler said.
In addition to a campus-wide camera system, DPS hopes to install other security features in the future, including a swipe-card system for all campus buildings.