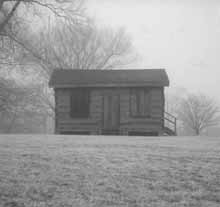 Have you ever wondered what the log cabin, near the information booth, is doing on Northern Kentucky University's campus with all the concrete buildings?
The log cabin is meant to represent how far education has come in this state, according to Dr. Jim Claypool, archivist and curator in 1982, for NKU when the log cabin first arrived on NKU's campus.
Prior to the log cabin's now permanent home here at NKU, it stayed at A. J. Jolly Park for four years, where it was disassembled log by log. Each log was numbered so it could be put back together at NKU. And before the cabin was at the park, it was located at the southwest corner of Main Street and U.S. 27 in Alexandria.
The formal dedication for the log cabin was on Nov. 5, 1983, where Dr. Leon Boothe, NKU President in 1983, gave a dedication speech.
In May of 1984 another celebration took place where an American Flag was presented to NKU by the Mary Ingles Chapter of the National Society of the Daughters of the American Revolution. On May 15, 1984, Campbell County High School band played "Stars and Stripes Forever," and ended the ceremony with "The Star Spangled Banner." Boothe was presented with the flag.
In a previous edition of "The Northerner," Claypool told of NKU's history. The history continues to the 1967 legislation, which established Northern Kentucky to have a four-year college. In 1976 NKU was recognized as a full-status university.