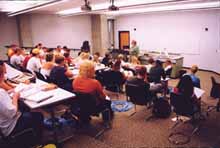 Stacey Sutton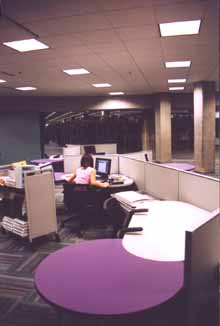 Stacey Sutton
As you might already know there is a new building on campus, the Natural Science Center, equipped with state-of-the-art laboratories and, for coffee lovers, a Starbucks.
The $38 million state-of-the-art Natural Science Center has nine classrooms and lecture rooms, 48 instructional research laboratories, four floors and the fifth floor has the mechanical facilities.
The construction went right on schedule with no problems or obstacles. The center was built with state funds, which were approved in the1998 legislature. There were also private donations.
Chris Cole, the Director of Media Relations said the discovery based learning atmosphere in the new science center is a new way of learning which gives students a hands-on learning experience.
The new science center was in full use to students and faculty on the first day of classes. The science center is the first new building on campus since the applied science and technology was constructed in 1989.
Dr. James Votruba, President of Northern Kentucky University, said the new science building is wonderful in every respect. Votruba also said it is difficult for students to find such technological opportunities in an undergraduate program anywhere in the country. It also sets a new standard for the construction on campus, said Voturba.
The students now have the opportunity to work on a molecular level in biotech classes, which helps give students a better understanding of what they are supposed to visualize, said Dr. Philip H. Schmidt, Professor of Mathematics and Director of Center for Integrative Natural Science and Mathematics.
"I think a lot of the equipment will help students better see what they are learning in a theoretical setting," said Schmidt.
A number of devices will allow the chemistry department to visualize magnetic resonance said Schmidt. The Physics department can now measure comic rays and learn a lot about the origin of the universe, Schmidt said.