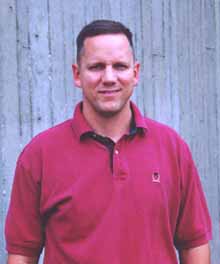 Stacey Sutton
The new Director of Campus Recreation is Stephen Tribble in the Albright Health Center at Northern Kentucky University. He was previously the Associate Director of Recreation and Sports at Texas A and M University in Kingsville, Texas.
Tribble is responsible for the administration in the health center. He is also working with Student Affairs in the residential village on the sand volleyball courts, two outdoor basketball courts and intramural sports.
The major differences from this campus to Texas A and M University is that the enrollment of students is nearly double here. The student body is about 80 percent latino and is also a lower income area, Tribble said. He had similar responsibilities there as he does here.
A new fitness center with updated equipment is on Tribble's special projects list. He said it seems to be going in the right direction. Tribble said the department is down one member, the aquatics instructor, so that is a big focus of his. He also wants to get more people involved in an outdoor adventure program.
Outside of his job he likes to workout and spend his time with his family. Tribble and his wife of 11 years, Marea, have two children together. Their Children, Talyor, 11, and Megan, 7, attend Summitview Elementary in Independence, KY. "My hobby is my kids," Tribble said.
One of the main reasons Tribble decided to come to NKU is because of the family oriented atmosphere, he said. It is also closer to home for him, since he is originally from Pekin, Ill. He said that the administration here at NKU is very good. "They let me rent a house out, until we found a house to buy," said Tribble.
Tribble has worked for five different schools in Illinois, North Carolina, Missouri, South Carolina and Texas. This was the smoothest move he said out of all the moves. The only problem this time was that the headboard of his new bed busted during the move.
Tribble's most memorable moments would have to be the birth of his son and the day he met his wife. He met her at Famous Barr, a retail store in Peoria, IL. "I rounded the corner and saw her standing at the register and we've been together ever since," he said.