Tomb Raider is 'one of a kind experience'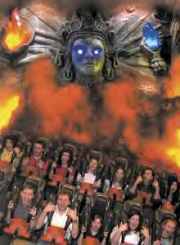 Many of you have played the games and have enjoyed the many adventures of Lara Croft. But none of you are prepared for what Paramounts Kings Island is calling "a one of a kind experience". Kings Island is starting off the 2002 season with one of the most anticipated rides in its history. Tomb Raider: The Ride is Kings Island's single most expensive investment in its amusement history.
Tomb Raider: The Ride is a heavily themed attraction that stands 8 stories high. It sits to the right of The Beast and is located in the Rivertown area in the park. The actual ride is enclosed in the 8 story building and enclosed with it are a few of the props used in the actual movie. The massive six-armed Brahma statue as the warrior Goddess Durga and the evil stone monkeys are all props that are used in the ride experience. Kings Island wants to bring authenticity along with excitement to make guests feel like real tomb raiders.
This ride is an excellent addition to the park. After installing the fastest, tallest, and only looping wooden roller coaster in the world, Kings Island is continuing their stride of making some of the most innovative rides found in any amusement park. Along with Tomb Raider: The Ride, Kings Island has added another pay ride that has taken the place of the King Cobra. As you all know the King Cobra was the first stand-up looping coaster in North America. The new pay ride is a sling-shot ride that catapults riders 2 at a time straight up. The ride costs $25 and is another excellent addition.