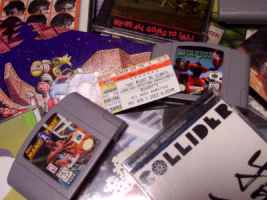 This is the fifth week of The Northerner Online's Entertainment section, and many of you are probably wondering why it was started.
Several of us, on The Northerner staff, felt that the paper needed more personality and some fun content added. So, we decided that a section devoted to entertainment was in order.
By entertainment we mean, video game reviews, movie and DVD reviews and the local music scene. We are also doing things that are easy on the pockets, for us poor college students. We are always looking for new things to put up on the web site, we are currently working on a section devoted to release dates, for games and movies, and a concert information section, we hope to have that running soon.
Finally, we are working on putting together a contest to name the section. We, as well as some of you, feel that Entertainment is kind of a bland title. So any suggestions for a new title would be greatly appreciated. We see this time as sort of an experiment and hope to make this even bigger next semester.
As always, your feedback is welcome and appreciated. To contact the writers just click on their by-line to e-mail them. Thanks for reading, and I hope you continue to enjoy the section, and The Northerner as a whole. -Jason Ellis/ Joshua Flowers, Entertainment editors