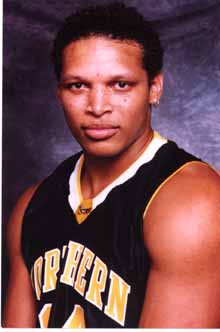 Cincinnati police arrested Northern Kentucky University basketball player Christopher Seabrooks on aggravated menacing charges last Monday. Seabrooks was arrested in the apartment of former University of Cincinnati basketball player Donald Little, where police allege Little tied up his roommate Justin Hodges and tortured him.
Authorities say Hodges was tied up to a lawn chair, burned with cigars and stabbed in the left leg with a hot coat hanger. Police spokesman Lt. Kurt Byrd said Hodges was able to escape after 30 minutes and call the police. Little is being charged with felonious assault and kidnapping, which carries a penalty of up to 20 years in prison. Hodges was released from University Hospital Monday night with minor injuries.
When the police arrived at the Fairview apartment just off UC's campus to arrest Little, the police report said they found the 6-foot- 9- inch Seabrook who told the two arresting officers he knew why they were there and threatened that Little was going to get Hodges. Police arrested Seabrooks for aggravated menacing, a misdemeanor, and he was released the next day on $1,500 bond. Byrd said at the most, Seabrooks could get 6 months in prison and a $1,000 fine.
Currently, Byrd said Seabrooks is not suspect to being an accomplice in torturing Hodges.
"I am not aware of him being a suspect. The case is still under investigation. It is too early to tell," Byrd said.
Seabrooks pleaded not guilty last week and his trial date is set for May 29. Seabrooks' lawyer Henry Shelton said if convicted, his client probably would not receive more than 30 days in prison.
Seabrooks came to NKU last semester on a basketball scholarship after being dismissed from the University of Pittsburgh team. He sat out last season to complete his one-year residency at NKU. UP's director of public relations Melissa Androutsos said the team dismissed Seabrooks for "conduct which was detrimental for the team." She declined to comment on the nature of Seabrooks conduct and UP's coach Ben Howland was unavailable for comment. The Cincinnati Enquirer reported that Seabrooks was dismissed from UP after being arrested on an assault charge.
Last week, UC dismissed Little from their basketball team, but the NKU athletic department has not yet taken any action against Seabrooks.
An official statement released by NKU spokesman Chris Cole offered no further comment on the University's actions other than to say, "The University is conducting an investigation into this matter. At this time, the University has no further comment."
The last time an NKU basketball player ran afoul of the law was on Sept. 29, 2000 when Todd Clark was arrested on charges of intent to sell ecstasy after a box addressed to him was found containing three hundred pills of the drug. The team suspended Clark until a judge dismissed the charges against him a few weeks later. Clark returned to the team later that month.
While there is no word on whether Seabrooks will be eligible to play next season, NKU athletic director, Jane Meier, said the athletic department will handle the situation like they did with Clark.
"We investigate and then make decisions," Meier said.
Meier declined to say whether a player's criminal record is taken into account during the recruiting process.
Dr. Scott Eaton, Associate Athletic Director for Administration Intercollegiate Athletics, said that although he couldn't comment on the Seabrooks case specifically, the recruitment process looks at both a player's personality and athleticism, but does not look at criminal records.
"If we did that, we would spend all our time with the police and FBI," Eaton said. "We try and talk to their previous coaches and family to gauge what type of a person they are."
For basketball especially, Eaton said doing in-depth background checks is incredibly difficult since the competition is high. Eaton said between 200 and 300 players are looked at as possible recruits every year. Many on the basketball team are reluctant to comment on the Seabrooks incident.
"It is not my place to comment," said Brenden Stowers, a center for the Norse. "If I was on the committee, I would have something to say on it, but I'm not, so I don't have anything to say on it."
Northern Kentucky University president James Votruba said he has been following the case of Chris Seabrooks closely and is waiting for more facts to come to light before reaching a decision. There is a possibility of Seabooks losing eligibility for NKU's basketball team, he said.
"Because of their visibility and because they are role models for youngsters, I expect our student athletes' behavior to be exemplary," Votruba said. "When it is not exemplary, I don't believe a student athlete is entitled to participate NKU."
Even if Seabrooks is convicted of aggravated menacing, Votruba said it won't necessarily result in his banishment from the team.
He said he wants a deeper understanding of the issue before contemplating any punitive action. Votruba emphasized there are no plans to take any action against Seabrooks right now.
"My hope is that this works out with Chris. Chris has a great future here at NKU," Votruba said.
"From what I understand, he is doing a good job as a student. I am very hopeful."
Both Seabrooks and men's basketball coach Ken Shields did not respond to messages left by The Northerner.