McConnell visits campus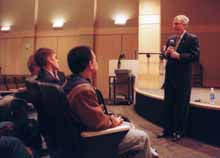 Student Jorge Marcano listens to Sen. Mitch McConnell talk about current events.
Students discussed politics with one of the nation's policy makers last week, Sen. Mitch McConnell(R-Ky). McConnell, Ky.'s senior senator, talked to students on a variety of issues including the war in Afghanistan, campaign finance reform and the Enron debacle. He also made a guest appearance on WNTV's talk show the Hudson Hour.
"It is interesting to meet one of the leading politicians," said Eric Fegan, a member of the Campus Democrats. "I wish I had a chance to debate him on campaign finance reform."
In the last few years, McConnell has developed a closer relationship with Kentucky universities, especially NKU. He is responsible for earmarking $35 million of federal funds for Kentucky universities, including a recent $750,000 for Northern Kentucky University.
McConnell has been an invaluable resource and representative for NKU at the federal level, said Dr. James Votruba, president of NKU.
"Over the last several years he has been very supportive of NKU," Votruba said. "Sen McConnell has always made himself available to me for advice and council ."
NKU is vital to the well-being of the state, McConnell said, and it needs to be supported.
"It is in a growing and arguably the most vibrant part of the state," McConnell said. "As you develop more and more alums, the fruits will go to the commonwealth."
McConnell said NKU is heading in the right direction under the leadership of Votruba.
"I am impressed with your President," he said.
In the future, McConnell said he is going to continue to increase funding for the Bucks for Brains program, which provides revenue for research programs and graduate student education at Kentucky higher education institutions. The 2002 General Assembly proposed $120 million for the program.
In 1996, McConnell became the only Republican in Kentucky history to be elected to three full terms in the United States Senate. He serves as chairman of several committees, including the Joint Congressional Committee and was the emcee of the 2001 Inauguration Ceremony and escorted President George W. Bush throughout the day's festivities. McConnell submitted his bid for re-election for a fourth-straight term this year in February.