Cottrell named National Player of the Year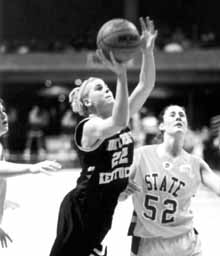 Cottrell takes a shot in her final game for NKU during the Elite Eight tournament
Northern Kentucky University senior Michelle Cottrell has done many incredible things on the basketball court and that has earned her quite a number of accolades during her four years with the Norse program.
It would only make sense then that she ended her astounding career being named the 2002 NCAA Division II Bulletin National Player of the Year for the second consecutive season.
"It's an amazing honor. There are a lot of good players out there," NKU head coach Nancy Winstel said. "The kid was out for seven games and still received the honor. It's an amazing accomplishment."
Cottrell said she was excited and proud of her distinguished honor. "It makes me super happy, getting it two years in a row. This was a goal I set at the beginning of the season, and it happened. It's an incredible achievement."
She won the award as an individual effort, but the honor will most definitely be shared with the rest of the team, because that is how Cottrell wants it.
"We want to make it a team award. It means a lot to Michelle. She is so deserving of the award. It's very gratifying and very special," Winstel said.
Cottrell ends her career with the Norse as the school's all-time scoring leader with 2,241 points along with a record 48 double-doubles. She also helped lead the NKU women's program to three Elite Eight appearances, two Final Fours and one National Championship (the school's only one) two years ago.
She always played with a winning attitude, and that is why her teams performed so well during her career. This season, for example, Cottrell averaged a team-high 19.7 points a game and helped the Norse win the Great Lakes Regional Tournament by scoring 31 points in the championship game.
"She plays her heart out every game. That's a true testament of her four years on the team," Winstel said. "She has taken her ability and appreciated it. She has taken it to the next level; that's her legacy. God has blessed her with some great talent."
Cottrell even missed seven games this season with an injury but showed her determination to make a full recovery and lead her NKU team back to this year's Elite Eight in Rochester, Minn. "During that time when I had been out, coach said, 'You'll always be our Player of the Year,'" Cottrell said.
Cottrell proved how much she really means to the team by scoring 29 points in the game against South Dakota State and just missing the game-winning shot at the buzzer. The Norse lost 68-67 to the Jackrabbits.
However, Cottrell won't be back next year to continue her leadership roles with the ball club, but she will always remain part of the NKU program no matter where she goes in life down the road from now. "Her ties are deep with Northern," Winstel said. "She will always be part of the NKU family."
The next time the women's basketball team goes to practice next season, it is going to be a lot different. The Norse will have some new faces and they will be looking for a new leader.
Cottrell will be a past memory but not forgotten and she knows how hard it's going to be not playing with her NKU teammates next season. "I am going to miss being part of a team and playing the games. I am going to miss meeting and hanging out with everybody."
Coach Winstel is going to miss the thrill of watching Cottrell in action on the basketball court. "I am going to miss her presence, because we always knew we were going to be in every game. Michelle is so much fun to watch and she does amazing things. She is a neat person to be around, on and off the court."
What might be missed the most about Cottrell is her overall attitude. She never gave her coach or the team any problems whatsoever, either academically, her behavior or how hard she was working in practice or games.
"She never gave me one tough day. She's not perfect; she's just normal," Winstel said. "It is a privilege to be around her."