Skeet team vies for championship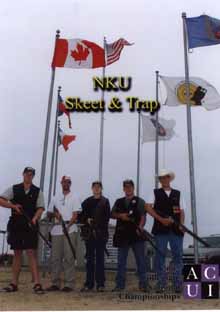 The skeet and trap team pose with their equipment at the national championships.
The Skeet and Trap Team competed at Nationals this year. During NKU's spring break, 5 of our fellow students attended the "ACUI 34th Annual Intercollegiate Clay Targets Championship" in San Antonio, Texas. This event pushed the competitors to the extreme. Each competitor shot over 500 rounds and shot at 450 clay targets with the winner only missing 23 targets.
"Clay target shooting is 90 percent mental and 10 percent physical," said Lou Schultz of Purdue University's Trap and Skeet team.
"This was by far the hardest competition I have ever shot. During the International Skeet event, which is Olympic-style shooting, you must have your shotgun resting on your hip. When you call for the target it can either come out then or within the next 3 seconds. This really will mess with your head," said Chet Kiser, NKU's team president.
The team did well considering this was their first time to Nationals. They placed 7th. Purdue University took home th gold, with George Mason University taking silver and Texas A'M taking home bronze. There are over 75 schools across the nation that have skeet and trap teams. Due to school schedules, however, only 21 schools attended the event. There were 145 competitors with Allen Treadwell from Crowder College taking home the gold, and George Mason University shooters Chris Metts and Josh Goodnight taking the silver and bronze, respectively.
As for the NKU, Chet Kiser placed 8th, Eric Nordman placed 20th, Jake Coulter placed 50th and Brad Fitzpatrick came in 53rd for the men's division.
In the women's division, Mindy Ostendorf took 4th place. "I was very pleased with the team's performance and couldn't have wished for anything better. The schools who won had funding by their schools. We do not. It is hard to be the best in an event which requires a lot of money when you don't have a lot of money to spend," said Kiser.
"I don't care if we didn't win first place, it was just a great experience. The team said when we were leaving, let's place in the top 10, and we did, so I am happy and I believe everyone on the team is happy as well. It was just a great time and something that none of us have ever done before," said Coulter.