Baseball team is back on track after three wins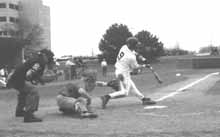 Jason Martin swings for the fences in the win over UM-St. Louis.
The Northern Kentucky University baseball team struggled defensively against two non-conference opponents last week but got back on track with three wins over the University of Missouri-St. Louis at the Bill Aker Baseball Complex in Highland Heights.
"We want to win as many conference games as we can," NKU sophomore Shaun Erie said. "Our goal is to get to the conference tournament and win regionals."
However, before playing a Great Lakes Valley Conference team, the Norse first faced Ohio Dominican College Wednesday. Ohio Dominican broke open a 1-0 game by scoring four runs in the fourth inning en route to a 9-5 victory. Christian Pantoja led the attack with three hits, including a two-run homerun.
The NKU leaders were freshman Chris Meyer, who went 2 for 3 at the plate with a homerun and three runs batted in. Also, Erie batted 2 for 4 with a double and freshman Keith Jackson pounded out two hits at the plate.
On Thursday, the Norse tangled with NCAA Division III team, Thomas More College. Again, defense and pitching factored in the outcome as Thomas More scored eight runs in the first three innings. That would be all the runs the team would need in winning the game by a score of 12-7. NKU, who made four errors as a team, got some help to make it a somewhat close game. Senior Pat Eschan went 3 for 5 at the plate with one run batted in, and senior Steve Walton hit a double and contributed three RBI's.
For Thomas More, sophomore T.J. Graves was 4 for 6 with two doubles and two runs batted in and senior Adam Freeman pitched seven innings of six hit, three run baseball, striking out seven batters.
The Norse did not feel that these losses were setbacks at all, because they have played a tough non-conference schedule so far this year. "We just got together as a team and decided to start all over," Erie said. "We have to get off to a better start."
NKU senior Jason Martin added, "We had a players only meeting before Friday's game and we cleared some things up."
That is exactly what NKU did when it hosted conference opponent UMSL in a doubleheader Friday. In the first game, the Norse used some great pitching and had just enough offense as they won 2-1. NKU senior Lenny Bays improved to 3-2 on the year as he pitched a complete game, allowing only three hits while striking out six batters.
Among the Norse hitting leaders were Eschan, who had two hits and drove home the game winner in the fifth inning and Walton, who also drove a run home with a sacrifice fly. Erie contributed two hits at the plate, too.
"Now that we've established what we need to do, we'll get back on the right track," Erie said. "If we keep winning as a team, we'll be alright."
NKU kept that motivation up in the second game of its doubleheader against the Rivermen. The Norse came alive with their bats and scored a couple of runs late and eventually won 3-2 in 10 innings. Senior pitcher Josh Whaley picked up the win on the mound.
"Lenny and Josh both threw good games today. They both deserved to get wins," Erie said.
NKU finished off its three-game homestand against UMSL Saturday with a 10-6 victory. The Norse put together six runs in the eighth inning and went on to win the game.
Freshman Drew Walters picked up his first win of the year after pitching 8 1/3 innings of strong baseball for NKU. Also, junior Joe Nash got the last two outs to record the save. As for the offense, Walton led the 17-hit Norse attack with three hits and four RBI's. Senior Justin Rahschulte added two hits and drove in two runs and Jackson contributed three hits and scored a pair of runs for NKU.
"Early in the year, they (Rivermen) were ranked 18th," Martin said. "Last year, we felt we were better than them. That gave our team some extra confidence."
With the three victories, NKU improved to 12-15 overall on the season, including a 6-3 record in the GLVC. The Norse will continue their homestand this Wednesday with a doubleheader against Bluefield State at noon.
NKU next heads out on the road for a while. The team will play against Kentucky State Thursday at 1 p.m. The Norse will then play a three-game stand against another conference opponent, the University of Wisconsin-Parkside, Saturday and Sunday.
"We have four non-conference games this week. We feel we can win 10 to 15 games in a row and take a big lead in the conference," Martin said.