Alum offers tips for graduation-bound NKUers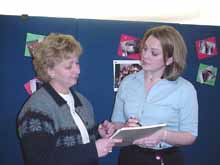 Jennifer Roose is one of Northern Kentucky University's many successful graduates. However, her current position as a recruiter for Procter ' Gamble makes her a good source for job-search advice.
Roose said she had some of the best days of her life at NKU. She graduated in 1998 with a bachelors degree in industrial and labor relations. She took advantaqge of the campus resources to find a co-op position at
P ' G that led to a job after graduation.
Roose said every student should take advantage of the many resources available to them on campus.
Roose found her co-op with help from the Career Development Center and the Department of Technology's co-op office, and she is emphatic about students needing to prepare for their job hunt. She recommends: