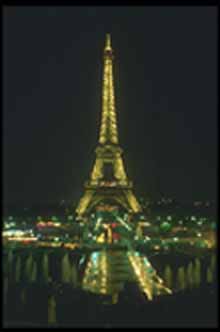 France is one of the many locales at which NKU students can study.
Reading, writing and arithmetic is the normal everyday education for college students. There is one experience that many students overlook that can be the final chapter of a complete education. The experience is the opportunity to study abroad and it is available for adventurous, independent and academically-able students.
Students like Laura Fisher have participated in the study abroad program, an experience that has allowed them to further their education in ways that can't be taught in the classroom. Fisher, a senior double major of French and English, went to Barbados last summer for about three weeks to take an Afro-Caribbean literature course. During her stay, she had the privilege of meeting several famous Caribbean poets that graced the island of Barbados with their lectures and readings.
"Outside of the classroom I witnessed uncountable learning experiences. As a minority there, I expected some racial stereotypes but was surprised to experience none. The young adults and children that I encountered were as interested in my culture as I was in theirs," said Fisher.
One experience that is unforgettable to her was a group excursion around the island. On the boat, local children that were on a field trip surrounded her. She described the children as being adorable, with a mix of British and Caribbean accents. The children were awed by her white scalp and couldn't believe her blue eyes were real.
"The main lesson for me outside of the actual classroom was most Americans and even Europeans tend to clump Caribbean islanders into one group of people, but they each have a very real sense of national pride for their own island and this should be understood," said Fisher. The Office of International Programs, currently a member of two different associations, coordinates study abroad at NKU. The Cooperative Center For Study Abroad (CCSA) travels to English speaking countries while the Kentucky Institute for International Studies (KIIS) travels to all non-English speaking countries. The office also has agreements with foreign universities.
"One point that I want to stress to students is that it is very important to be financially, academically and emotionally ready for an experience." said Dr. Michael Klembara, director of International Programs.
Students can participate in programs that will last anywhere from a week to one year. General studies requirements have programs available for students who haven't declared majors that would like to participate.