John Q: the good guy?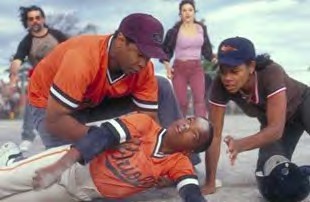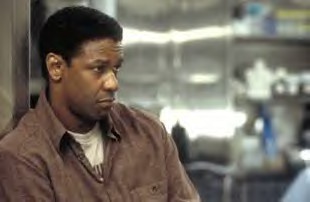 John Q Rated PG-13 Running time: 118 mintues
The most entertaining movies are those where the forces of good and bad are at battle with each other. That's what makes John Q so interesting- the lines of good and bad are blurred by our emotions. The movie starts out with John Q (Denzel Washington) running out of his house because the bank has repossessed his car. He works 20 hours a week at a factory and his wife works in a supermarket. Money is tight. John Q and his wife are sitting in the stands of their son's, Mike (Daniel E. Smith), baseball game when he collapses on his way to second base. The doctors tell Mike's parents that he has an enlarged heart, three times that of normal size. Without a transplant, Mike will die. The hospital will not perform the surgery without a down payment of $75,000 because John's insurance company will not pay for the transplant.
Emotionally, I'm on John's side. HMOs are a pain. John Q sells what seems to be everything including his truck. He raises some money from his church but not enough for the operation. His wife calls from the hospital to say that Mike is to be discharged. The hospital is sending him home to die. She frantically tells him to do something, anything to save her son.
John Q takes the head of Cardiology (who will not operate on his son) and the ER hostage. This is where good turns bad. Of course I don't want to see this little boy die, but it is wrong to hold innocent people hostage because you cannot have what you want.
The movie has some negative commentary about HMOs throughout. A nurse that is held hostage by John Q agrees that HMO's are out to make money and cut costs, which can hurt patients. A crowd forms around the hospital watching every move and often cheer for John Q and his one man crusade. After John Q lets a hostage go a reporter asks her how she felt about John Q, the former hostage smiles at the camera and says he is a good man.
The movie has some predictability in the end. Denzel Washington puts on another amazing performance that at times caused the audience sniffle; if you are one to cry easily, bring a tissue.
Walking away from this movie, I wanted to call my mother and cancel my health insurance policy. I suppose John Q was the good guy after all. John Q opened in theaters Friday, Feb 15.
3.5 out of 5 peanuts