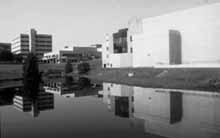 TKE members will dive in this lake today to fight Alzheimer?s.
Lake Inferior sits tranquil under an open sky, as wildlife serenely nestle along its banks, occasionally taking a dip in its muddy waters. Its murky depths are undisturbed by the outside world as a light breeze gently rolls across the lake, rippling the water.
It will remain peaceful until noon on March 20, when the men of Tau Kappa Epsilon will jump into its murky waters to benefit the Alzheimer's Association.
The idea stems from Alzheimer's sufferer and former President Ronald Reagan who is an alumnus of the fraternity (not the NKU chapter).
Adam Seibert, president of TKE, said it took a long time to finalize the plans. "We had to go through a lot of red tape to get this to work," Seibert said. This included providing insurance in case someone gets hurt and having a life squad and lifeguards standing by. It took nearly a year to work out all the details, Seibert said. The fraternity had planned to do the plunge last month but had to postpone due to legalities of this project.
The plunge had originally been planned to take place in the swimming pool on campus but the men decided to do something different by choosing the lake. They plan to take the plunge rain or shine. "As long as there isn't any lightning, we'll go in the rain." said Seibert.
For every $10 donation they receive, one member of TKE will plunge into the lake. The event also will include a "surprise guest." They hope to raise $1,000 for the Alzheimer's Association. A collection booth will be set up in the University Center for donations. They will accept donations in any denomination.