NKU student dies in car accident
Hang on for a minute...we're trying to find some more stories you might like.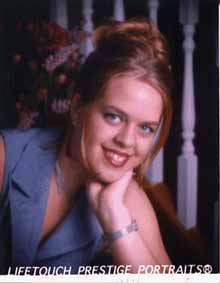 A woman who loved children and wanted to devote her life to working with them is how friends and family describe Melissa Ann Spanier. Spanier, 19, died on Sunday, March 3 when she lost control of her car while merging onto I-75 from State Route 18 and was broad sided by a tractor trailer. Spanier attended Northern Kentucky University last semester as a freshman in hopes of gaining a degree in education to teach grade school, said her 20-year-old brother Neal Spanier. "She was your typical teenager," Neal Spanier said. "She loved kids and loved all her little cousins. She babysat a lot." Florence police attribute the accident to the condition of road, which had some snow accumulation. Spanier was pronounced dead on arrival at St. Luke Hospital West. No other injuries occurred as a result of the accident. Spanier worked last summer at the Little Red School House in Erlanger and helped with the children. She had a special talent in interacting with children, said Cathy McFarland, director of Erlanger's Little Red School House. "She was very understanding and had a good rapport with the children," McFarland said. "She had a lot of patience and you could tell she enjoyed being with them." McFarland said Spanier visited about a week before her death to check on the kids and to say hi. News of her death was tough on the staff at the Little Red School House, McFarland said. "It is sad. She was so young," McFarland said. Spanier graduated from Lloyd Memorial High School in 2001. Survivors include her parents Richard and Mary Kay Spanier of Erlanger; brothers Adam Spanier and Neal Spanier, both of Erlanger; grandparents Richard and Patricia Spanier of Crittenden and Ray and Rose Boemker of Erlanger.