Laying down the foundation for Brick Legacies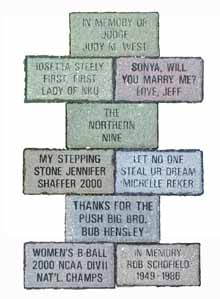 Stacey Sutton
When a student graduates from Northern Kentucky University, he or she is offered the chance to get a message of their choosing engraved on one of the bricks located in front of W. Frank Steely Library. For $75, they can have a three line message posted (14 characters each line).
However, students are doing more that just posting a memorable message. When they go through the Buy a Brick program, they are also making a gift to the Annual Fund for Northern.
"You are giving something back and leaving something behind, as you take away memories of NKU." said Marina Harper, Director of Annual and Special Gifts. "75% of the cost of purchasing the brick is the graduating student's first alumni gift to the Annual Fund for Northern."
As part of part of all private support received at NKU, the Annual Fund helps increase the margin of excellence at NKU. According to the mailed-out flier, "Each year gifts to the Annual Fund for Northern provide vitally needed resources for academic programs, scholarships, campus activities, curriculum development, faculty excellence and technology enhancements."
The Buy a Brick program works in partnership with the newly-structured NKU Give! program. When you make a graduation gift of $10 you receive an "I GAVE" pin to wear with your cap and gown at graduation and your name is acknowledged as a donor in the May 11 commencement program book. Two weeks prior to graduation, you receive a "Thank You Gift Pack" that contains NKU mementos (NKUcalendar, NKU car decal, opportunity to buy a membership at the Albright health center) and valuable discount coupons from area attractions. For an additional $15, you can also honor someone special – someone who has made your journey through college possible. This special person is recognized in the commencement program book and will also notified (by mail) of your gift made "In Honor Of" him/her.
NKU students are actually playing an active role in university life by making gifts for the Annual Fund for Northern. According to Harper, no matter how large or small the gifts are, every one of them counts and helps make a difference.
"We want to cultivate graduates to make their first alumni gift as they finish up with classes at NKU, and also continue to support their alma mater at whatever level that is comfortable for them when they become alumni. Their participation in the Annual Fund (at any level) helps leverage for support from corporations, foundations and state agencies.
Basically, you are helping future NKU students with their college journeys, just like past and current donors to the Annual Fund who helped you during your run through college. Helping others out should give you a positive feeling as you leave this campus, knowing that you made someone else's day a good one.
For more information, please call 572-6503 or e-mail Marina Harper at harperma@nku.edu.