Joey Ramone says goodbye with final solo album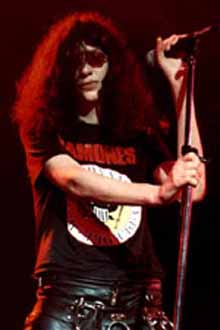 Ten months after his death on Easter Sunday of 2001, Joey Ramone said farewell to the world in the form of his first and last solo album, Don't Worry About Me, released Feb. 19 on Sanctuary Records.
The disc starts off with one of two covers on the album- a punked-up version of the Louis Armstrong classic "What a Wonderful World". Rather than merely paying homage to the song, Joey's uses his unique voice and a spirited deliver to make it all his own. With much of the album's 11 tracks featuring producer Daniel Rey(Ramones, Misfits) on guitar, Dictator Andy Shernoff on bass, and Marky Ramone on drums, Joey expands on the punk-rock sound he helped to pioneer in the now legendary Ramones.
"Venting" spews out the social commentary that the Ramones avoided for most of their career. "Reality today's much stranger than fiction," Joey sings in his Anglo-Queens accent. "A sick world with a violent affliction," he laments of the dog-eat-dog mentality that dominates our age.
Not all the tracks are as pessimistic, though. There are still the elements that made the Ramones so fun. "Maria Bartiromo" is an ode to the fashionable CNBC stock market analyst. "Mr. Punchy and "Spirit in My House are totally irreverent in the way that many of the Ramones classics were. The best tracks on the CD, however, are not the songs in which Joey reminds us why the Ramones were Gods or the new renditions of a few classics. Instead, many of the album's most touching songs can be found scattered throughout the last half of the disc, in which Joey brings the listener into his battle with cancer. "Searching for Something" tells the story of Joey's quest for inner peace in the face of death. "We went on up to South Fallsburg for some spiritual comforting," he sings in the chorus. "I felt like a million dollars; something that money just can't bring."
The title track, which closes the album, says more than could ever be said by an album review just through its title. Though Joey had yet to complete the album at the time of his death, the 11 tracks that make up Don't Worry About Me offer a fitting and much needed closure to the career of a legend.