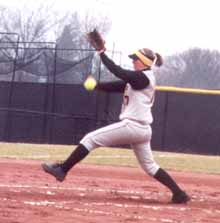 Brittany Contois/The Northerner
The Northern Kentucky University softball team is off to a great start so far this season. After playing two doubleheaders last week, the Norse are sporting a 3-1 overall record, including a perfect 2-0 record on their home turf.
"We're doing very well. We're coming together," NKU senior Krista Eldridge said. "We have people in new positions and everyone has stepped up."
The Norse began what turned out to be an impressive week by splitting a pair of games on the road against Morehead State last Tuesday. NKU won the first game by a score of 6-3 as freshman Angie Lindeman drove in three of the runs and went 3 for 4 at the plate. Also, freshman pitcher Emily Breitholle picked up the win in her first start for the Norse.
In the second game of the doubleheader, the Norse broke a 6-6 tie in the fifth inning, scoring two times and winning 8-6. NKU seniors Joanna Doerner and Eldridge and freshman Carrie Higgins each contributed two hits at the plate and Eldridge drove in two runs as well.
The Norse played their first home games of the year on Saturday against Ohio Dominican. NKU didn't have any problem with its opponent, providing plenty of offense in both contests, winning 7-2 and 8-0 respectively.
"Our offense has really come along. We're producing a lot of runs, and that's good, because we were in a lot of close games last year," Eldridge said.
The first game wasn't decided until the sixth inning when the Norse broke open a close one-run game with four runs in the inning. NKU won the game from there 7-2 as the team out hit Ohio Dominican 9-3 to help account for the victory.
Breitholle was once again phenomenal with her pitching, striking out six batters and improving to 2-0 this season. Doerner powered the Norse offense, going 2 for 3 at the plate with a triple. Also, Higgins had two hits, including a double.
Eldridge commended the performances of the new freshman on the team, because they have helped contribute in a big way so far this year. "Our freshman are doing tremendously," she said.
NKU won the second game of the doubleheader with ease, putting eight runs on the board in the third inning to secure the shutout.
Freshman Stephanie Leimach went a perfect 3 for 3 at the plate, with a double and two runs batted in for the Norse. Higgins drove in three more runs and added a triple for NKU and Eldridge and Lindeman both went 2 for 3 at the plate in the victory.
NKU next heads on out for a spring break trip in Orlando, Florida on March 11, where the team will play 10 games in a span of a week.
"We're excited, because we're going to be playing some tough games," Eldridge said. "It's good that we have four games under our belt right now."