Classes to expand 7 percent in fall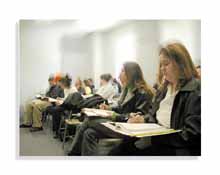 Some classes like Music 100, where Jessica Seibert (left) and Kari Gough (right) are seen studying, will have room for more students in the fall.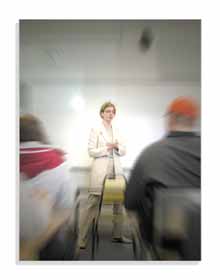 Scott Wartman/The Northerner
Like many freshmen when registering for classes, Megan Koomer must choose from leftover courses which haven't been filled up. "I am a freshman, so everything is taken," Koomer said.
Next fall, however, Koomer, along with all other students, will have a better chance at getting the classes they want when the university expands the number of seats in classes by 4,298. The seats will be expanded through the addition of classes and the enlargement of class sizes.
The rise in the number of seats is the largest expansion in one semester, said Paul Reichart, Vice Provost who has coordinated the expansion. The addition of seats for next semester almost equals the total growth of seats over the last three years.
The seats will be able to accommodate an additional 955 students, and Reichart said he is confident the university will be able to fill a majority of the seats. Not all the seats will be filled by new students, he said, but by students who will be able to take more credit hours due to the increase. "A student who may ordinarily take 9 credit hours because others were filled will now be able to take 12 to 15," Reichart said.
The addition of the extra seats will cost the university around $1.4 million, Reichart said. The literature and language department will hire two new lecturers to accommodate new seats, while most other departments are simply expanding the number of seats in their classes and not adding any new course sections. Many classes will be moved to bigger auditoriums said Patrick Moynahan, the dean of professional studies. Moynahan said the classes that were chosen for expansion were the ones that traditionally filled up early and could take additional students without harming the quality of the course. He gave the example of speech 101 as a class that didn't lend itself to additional students "If you would take speech 101 and add four more students, those four more students would have to do four more speeches, and it throws the schedule of the class off," Moynahan said. "We were careful in picking classes where it didn't destroy the integrity of the class."
While class size will increase for some classes, Dean of Arts and Sciences Gayle Wells said students will still get an intimate class atmosphere and won't notice much of a change in the structure of classes. "Our plan is that they won't notice any negative impact," Wells said.
The courses added and expanded will be mostly entry level and general studies courses. While the added classes will help, Wells said it won't completely eliminate the problem of classes filling up. She said the popular times, which are around mid-day, will still be in high demand, while classes in the early morning and late afternoon/night will still fill up slower. "We need to move students to recognize the advantages at these other times," Wells said.
Many students agreed that there needs to be more of a variety of class times. Mindy Ayers, a senior marketing major, said she wanted to only take one night class this semester to spend more time with her child, but she had to take two since there were no other time choices. Scheduling was worse when she was a freshmen, she said.
"My second semester, I spent hours filling out my schedule," Ayers said.
Non-traditional students have the greatest need for flexible scheduling said Katherine Meyer, director of adult learners/weekend services and women's center.
"Adult learners who enter the university aren't on the same academic schedule as other students," Meyer said. Some students, however, have experienced no problems in registering. Freshman Charles Culk is one such student who offered a bit of advice when registering for classes
"Register early, register often," he said.