Spring break trip offers chance to help others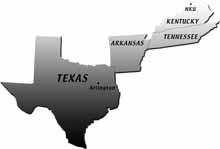 Spring break is fast approaching and you haven't made any plans. Why not go on a road trip? Twenty-three students have signed up for the spring break trip to Arlington, Texas with the Baptist Student Union, and there is still room for more students to go.
"I've never been to Texas," said Megan Ryan, senior RTV major. "I've never been west of Chicago. What's better than going on a road trip with your friends?" Ryan traveled to Brunswick, Ga., last year with the BSU group, and is heading to Texas this year.
Heading south with Ryan is her friend Katie Goins, a sophomore. Goins said, "I think it's really neat. Texas has a really neat atmosphere. It gives you a different perspective going out of Kentucky." Goins has driven to Texas twice before and said it is a long trip, 18-20 hours.
Dustin Montgomery, a sophomore computer science major is the trip coordinator.
He said, "The place we're traveling to is called Mission Arlington. We'll be doing community projects and helping people out. Twenty different schools are meeting at Mission Arlington for spring break. We're going to try to interact mostly with the three Kentucky groups."
Anyone can go on the trip, just come in and sign up on the BSU bulletin board, or call the BSU at 572-5953. Last year, about 40 people went. Montgomery said they are hoping to charter a bus, or otherwise the group will drive in church vans like last year.
The group will stay in a gym, so the students pile in sleeping bags, guitars and all their gear for the trip.
The time of departure is Friday, March 8, at 3 p.m., and return is late Sat., March 16.
The trip itinerary consists of helping out in the community through the afternoon, and then doing backyard Bible clubs from 3-6 p.m.
"The nights are pretty much free, but there is a praise and worship band coming on Monday night," Montgomery said. "We might take in the rodeo one night, and go to a nice restaurant, since Arlington is only about 30 minutes from Dallas.
"I think you learn a lot about yourself and who you are with," he said. "It's a great trip to be able to serve people, get closer to God and help out wherever you can."
Goins and Ryan helped out by painting at a teenage drug-rehab complex during the trip last year. They worked in nursing homes, Boys and Girls clubs and went to the mall to perform creative movement, skits and music.
Goins said, "During the College Ministry Service in the evenings, I got to socialize with different groups in the backyard of a church, called the 'big backyard.' There were about 180 college students there from different colleges."
Even if students can't make the trip, they can get involved in supporting those who can go by coming to a benefit concert on March 1, at 6 p.m. in the Otto Budig Theater. The concert, called Triple 3 Fest, features more than five bands playing punk, hardcore and alternative music.
The $5 admission covers the concert and food. Some of the groups playing include: The Long Goodnight, Blueprint Coalition, Simpleminded, Death Through Adam and The Big Nickel.
All the proceeds will help to defray the costs of the Texas trip.